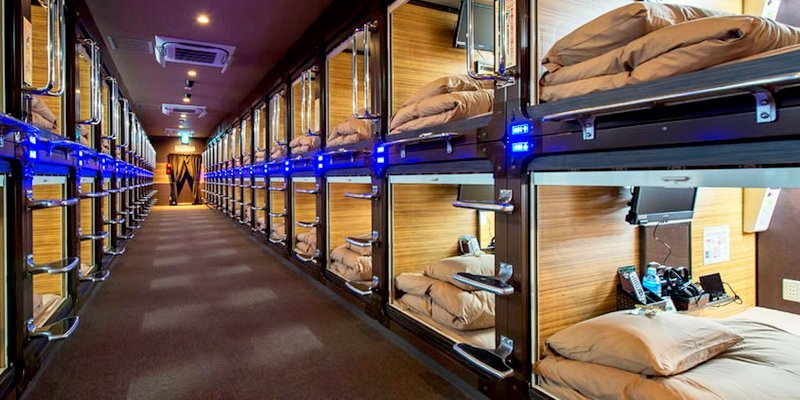 If you don't starfish in bed, have ten Louis Vuitton bags to consider, are not claustrophobic and like being in your own cocoon with a penchant for minimalism, then maybe one of the new swanky or out-there quirky pod hotels could be your next sleeping adventure. Definitely a choice for those that don't consider size to be everything, some of the cute and funky offerings in the pod accommodation market will give you a titillating thrill of the tiny kind without the wallet-gouging that big and beautiful hotel rooms do.
Once the domain of Japanese businessmen so that they could imbibe in sake and not have to worry about getting home after an evening out, the concept of pod hotels was initially launched in Osaka in 1979. Today it is a whole new world of where to grab that blissful night of slumber.
Pod Hotel Intimacy & Privacy
Small is beautiful and adventurous, especially if you are braving pod hotels as a couple intent on some karma sutra moments. Maybe some yoga lessons could be a pre-holiday requisite, whilst for others it might be whatever new fad diet is making the rounds to lose the love handles, so you will fit into your cubby-hole and extra tall people will need to tie a cushion around their heads as a crash helmet. The pod bed will definitely not be the place to take your new best friend that you just picked up in the bar for wild and raucous drunken sex, unless you are only into horizontal fun. Bathrooms are another issue; if you are not into sharing your nasty habits in the loo and worry about STDs of the foot variety like toe jam, you should stick to a standard hotel.
Pod hotels have taken on a life of their own due to numerous reasons; lack of city center space for hotels, cheaper price point for cost-sensitive travelers flying low-cost airlines but who don't wish to go the whole cheapie mile of staying in backpacking establishments and the definite increase in the solo flying soul who doesn't need a large room in a hotel, but will not compromise on quality and creature comforts.
From Asia to Europe, from America to Australia, the hotel development gurus are looking at different dimensions of the traveling market share. The calculators have been reconfigured on just how much space does one person need to sleep in if you leave the amenities in and use shelving or wall bracketing for those items, then take out the floor space apart from what is necessary to hold a mattress. There is a crazy mixture of choices available in pod hotels where some have different genders on separate floors, others have pods big enough for 2 sharing and caring people, whilst a few have private party pod rooms where you can book the whole room of say 4 pods for you and your friends or family to snore away in complete harmony.
Pods For All Purposes
The pod hotels of today are no longer the domain of curtained coffin boxes, but have evolved into innovative spaces complete with high tech gadgets galore within easy reach. You will now find pod hotels across the globe, from airports to bustling city hubs in one shape or form, from complete beehives of sleeping slots to inventive tiny nests of decorum.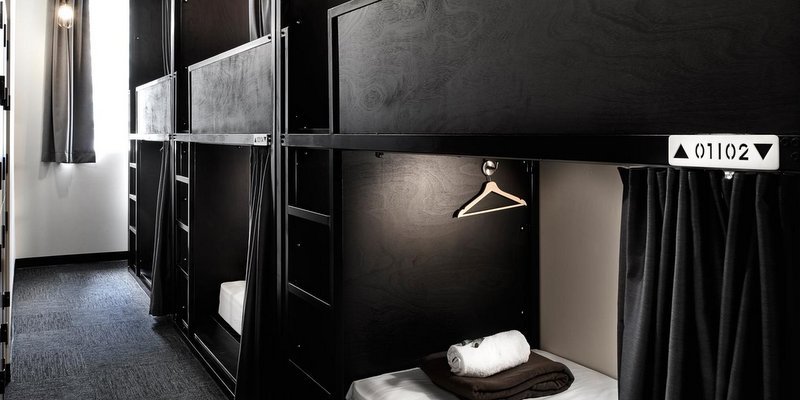 The boutique Pod Hotel in Pitt Street Sydney is one for the style gurus of small sleeping spaces with the added extras of a lush shared kitchen, dining and television room - just hope you don't have a couch commando holding the remote controlling your viewing pleasure. Sleepbox in Moscow gives you no gimmicks or fluffy bed ruffles, just a sleek pod to sleep in. One of the luxury pod hotels of course is Anshin Oyado, Japan where each capsule room has air conditioning, a tablet computer and a flat-screen TV provided with your futon bed, there is also a free artificial hot springs and misting sauna to play in. Book and Bed in Tokyo is for the book-lover, as you will find thousands of books to buy and read and the pods complete with a reading light are tucked into the bookshelves. You can fill yourself up at the whiskey bar in Hotel Sleeps Tokyo, especially if you are claustrophobic before confining yourself to your "shelf" for the night.
You can grab some snooze time between flights at the Bloc Hotel, London Gatwick only a few steps from the departure lounge in one of their hip capsules. If you are going through Narita Airport, Kyoto check in to 9 Hours for a pod with an extra supportive pillow, a decadent mattress and the wow factor of a "Sleep Ambient Control System" - a gentle alarm clock waking you up with light replicating the rise of the sun. Trust Amsterdam to have the cool pod hotel, CityHub sitting in the heart of the city, with its futuristic vibe of slotting bunk beds and a digital concierge.
Let's be honest here, what do you do in all that decadent and wasteful space of a hotel room? Yes you will dip out on the extras: you won't get your trousers pressed, you won't be able to boss around a bellboy or a personal concierge and as there are no pillow chocolates to make you fat, you won't be tempted to gobble everyone's down and pretend they weren't delivered. This is communal accommodation for those who care about their carbon footprint when waltzing around the world and who like to be up close and personal with their fellow travellers.
As for those into a bit of kinky garden gnome hunting or dwarf spotting, these elusive little mythical creatures may be happily slumbering in your pod.
Gail Palethorpe, a self proclaimed Australian gypsy, is a freelance writer, photographer and eternal traveller. Check out her website Gail Palethorpe Photography and her Shutterstock profile.