Not all dive resorts are created equal. Forget about being grungy 24 hours a day squeezed into a wetsuit or flashing your rear end to the world as you do a backflip out of a boat overflowing with other tourists. The resorts below are definite must-stays if you are into remote time-out, where sophisticated self-pampering goes hand-in-hand with diving the depths in glamour mode.
Jean-Michel Cousteau Resort, Fiji
An award-winning resort for divers to indulge their passion for the deep blue, Jean-Michel Cousteau Resort is an eco-luxe retreat perched on Vanua Levu Island in the South Pacific. It's legendary for its diving opportunities and world-renowned for its prolific soft coral, vibrant blue starfish, and technicolour nudibranch (think marine molluscs) sightings.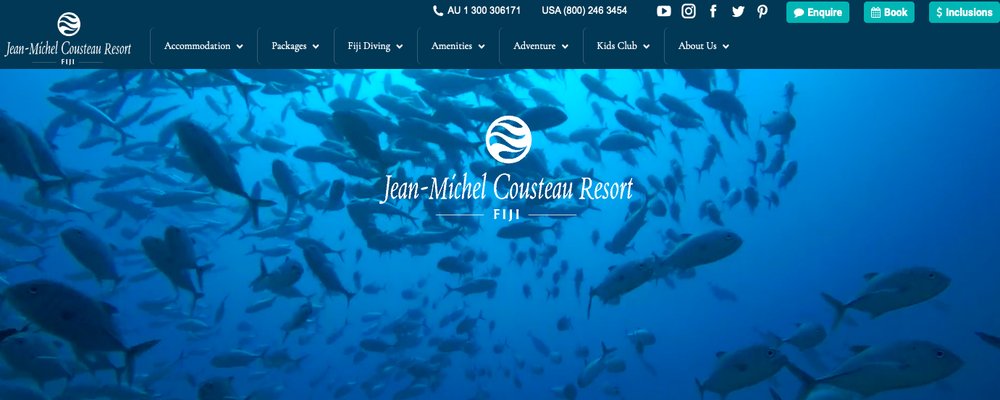 Just offshore is Namena Reef, where you will have magical moments gawking at a beautiful underwater world. There's a dive centre where you can become a certified diver over three days of on-site training if your credentials aren't up to par.
Just as stunning as the underwater world are the elegant beachside bures littering the shoreline of Savusavu Bay. Sunsets will have you lingering on verandahs with aprè-dive drinks in hand and the salty air washing over you in a gentle breeze. Days not spent splashing around in the water will give you the chance to soak up blissful vibes either swinging in a hammock or pampering yourself with a spa session.
Mnemba Island, Zanzibar
Offering remote luxury and unpretentious vibes, just getting to the private island of Mnemba will put your brain into a dizzy spin. Get yourself to Tanzania in Africa, fly to Stone Town in Zanzibar and then catch a boat to the island.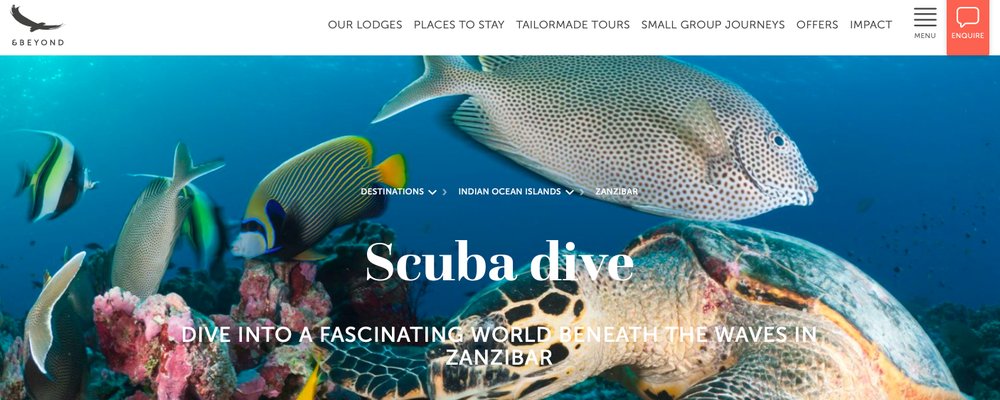 Here exclusive opulence melds with beachfront nature in barefoot adventures. Infused with an ancient culture of seafarers and traders, the hints of cloves, cinnamon and nutmeg still whisper in the air. Traditional dhows majestically plough the waters, and the stark white sands cry out for footprints.
Only 24 guests are catered for at any one time in beautiful bandas inviting the outside in. Mnemba Island is a romantic getaway where you don't have to be a serious diver. Even snorkelling will put you in a fishy playground where you can see humpback whales, rays, sailfish, dolphins and sharks gliding through their natural habitat.
The island is a nesting ground for green turtles, and if you happen to be there at hatching time, you can watch the little guys scurry down to the water's edge. There are plenty of other activities on offer if you have no desire to dive into the deep blue including fly-fishing, kayaking, gorging on incredible food and frolicking in shallow pristine water.
Misool Eco Resort, Indonesia
Be prepared to put on your facemask and snorkel when gawking at the website of Misool Eco Resort. The underwater fantasyland is only overshadowed by the wow factor of its traditional Asian villas and bungalows with open-air bathrooms that float over a pristine blue lagoon. Beachside chic has never looked so amazing.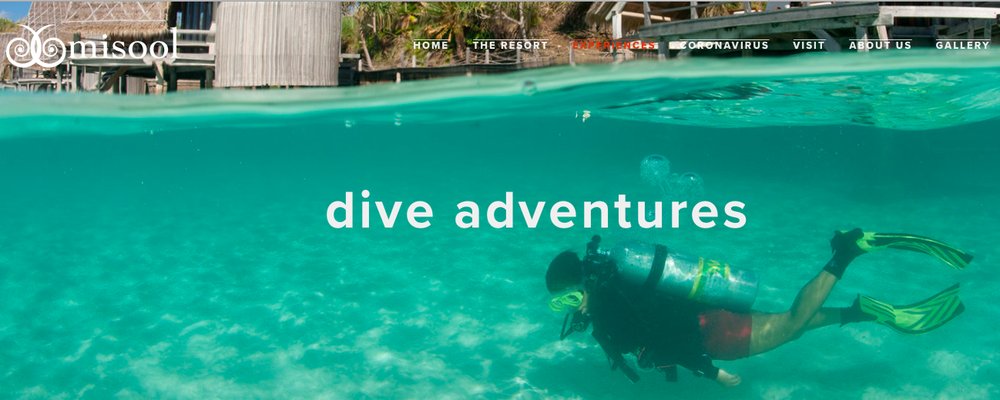 Totally unique and utterly remote, this private island retreat of white powder-soft shorelines is where decadence meets a watery wonder like no other in the world. Located in Raja Ampat of Indonesia, the backyard is a marine reserve where untouched reefs of coral gardens and marine life of all varieties defy the words to describe. You can snorkel straight out from your accommodation, swim with baby blacktip reef sharks, marvel at the antics of green turtles, or take a guided boat dive. Staff to guest ratio is four to one, so your every wish will be granted.
Four Seasons Resort, Landaa Giraavaru, Maldives
It's time to mix a bit of glamour with your scuba diving. Pack your Chanel sunnies with your Gucci resort wear when heading to Landaa Giraavaru perched in the Baa Atoll UNESCO Biosphere Reserve of the picturesque Maldives.
Arriving by seaplane gives you a breathtaking view of uninhabited islands and jewel-like reefs. You can take your pick of accommodation, from sophisticated and elegant overwater huts to beachfront bungalows with thatched roofs reaching for the stars. All have their own swimming pools for those times when you don't want to have salty skin.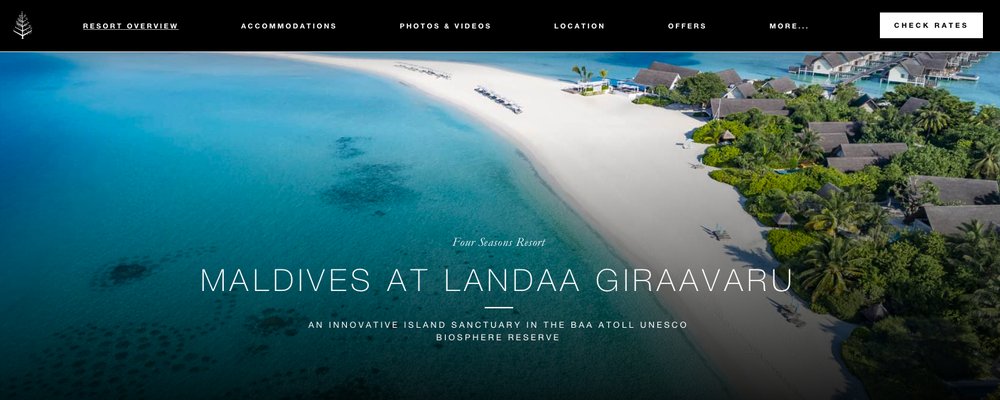 It's a secluded wilderness of eye-popping colours juxtaposed with the stark whiteness of velvet-soft sandy shores. You can chill-out lazing in a hammock, or pamper yourself at the Spa and Ayurvedic Retreat. Indulge your passion for diving or snorkelling unsullied waters where turtles paddle or have a personal encounter with the largest population of manta rays.
The Oberoi Sahl Hasheesh, Hurghada, Egypt
Enchantment awaits you at The Oberoi Sahl Hasheesh for those seeking to mix it up on a diving adventure. The land of bustling bazaars, desert safari excursions, camel rides and rustic sandstone villages melds with the vibrant life and colours of the sea life to be found in the Red Sea.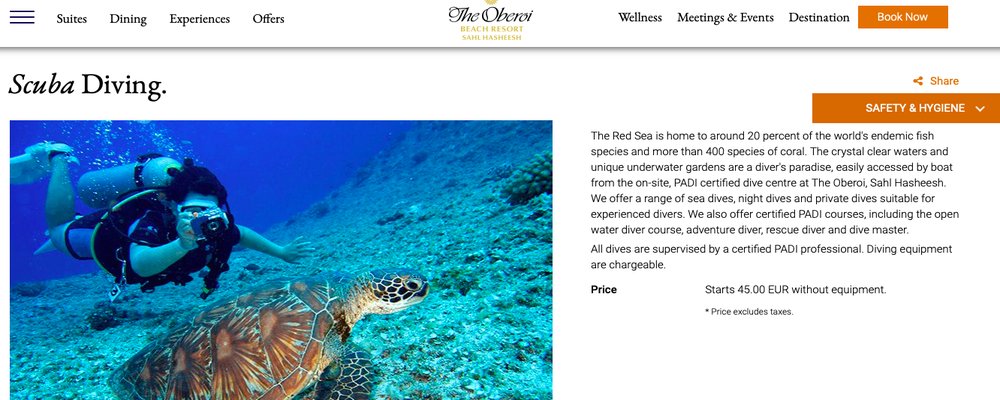 The majesty of traditional Arabic architecture is displayed in the dramatic vision of Sahl Hasheesh. Perched on the shoreline, the resort's palm-filled grounds run down to a private beach. This could be your own personal Arabian Nights tale where you whimsically float around under domed pavilions or peek at star-studded skies through decorated atriums.
With an in-house PADI diving centre, a luscious spa hub, pilates classes, and mouthwatering cuisine, you will have to pinch yourself when you arrive. An aquatic playground verging on the mystical, the Red Sea shows off more than 400 coral species and 20 per cent of the world's species of fish.
---
Gail Palethorpe, a self proclaimed Australian gypsy, is a freelance writer, photographer and eternal traveller. Check out her website Gail Palethorpe Photography and her Shutterstock profile.
---