Kuala Rompin, a small town in Malaysia, known to a select few, is roughly halfway between Singapore (220km) and Kuala Lumpur (250km), about 45 mins north of Mersing the nearest major city centre.
Sitting on the east coast far from most travellers 'places to go list' it is becoming a game fishing 'go to' for those that are seeking something a little off the beaten track and very far away from the hoards of would be game fishers that frequent some of the more well known destinations.
Not the easiest place to get to with a good 4-5 hour drive from Singapore, Rompin caters specifically for the angler seeking a uniquely Asian fishing experience. It would also be hard to describe Kuala Rompin as a tourist destination outside of the fishing, so if you have partners seeking something other than fishing you may wish to consider Tioman Island as a base, which is near by and offers some very respectable 4 star resort accommodation for those wanting to laze around a pool.

Each of the 3 days started at with the mandatory live bait collection after about an hour trip (starting at 8am) from the harbour. The guides are well versed on where to go and within a reasonable timeframe your boat is well stocked with live bait - there is also the option to pre-order some preferred bait such as shrimp (prawns) in advance.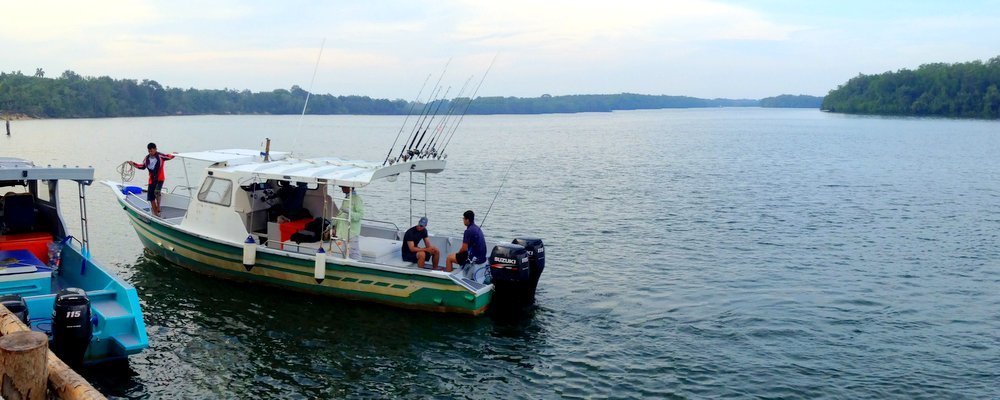 Once the bait is in the tube the real fishing commences. The bid draw for Rompin is sailfish, arguably the fastest fish in the sea and the reputation for waters around this area for some of the best sailfish sport fishing available. Best time of the year for sailfish is said to be between Aug and Oct.
With the right guidance there is pretty good fishing most of the year round with Mackerel, Queen Fish, Barracuda and Cobia all making an appearance round these coastal waters.

A rare site to be found is Black Marlin, however one of our group managed to land a 20kg example (on a 6kg line), with the skipper admitting it was the first he'd seen in about 6 years.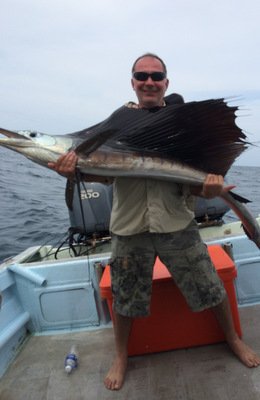 The boats are good quality fibre glass game fishing boats, approx 30ft, well maintained and carrying all the necessary equipment and safety gear one would expect. Our guides were clearly experienced and did everything they could to make the days easy and trouble free and successful in terms of strikes (bringing the fish in is your job). However chit chat is at a minimum as English is not a preferred language in the area.
Kuala Rompin itself is a sizeable town with all the usual amenities including supermarkets, tackle stores and a number of fast food places starting to make an appearance. We would recommend trying one of the local restaurants, many provide excellent local cuisine, with either Chinese or Malay influence and at very reasonable pricing. If you do happen to land an edible (take home) catch many of the local restaurants will happily help prepare the fish for your dinner (charges of course should be expected yet again these are minimal).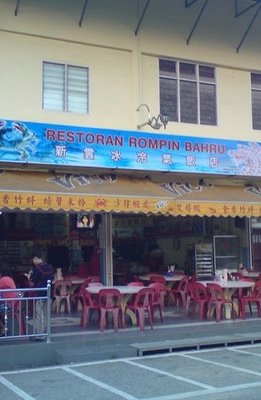 The local favourite restaurant is Restoran Rompin Baru, very basic mostly outdoor decor with Chinese influence in the dishes. The owners are very friendly, have a well established presence in the area and the food is excellent, no matter what you order - ask for the daily specials - it could be anything from Wild Boar to local beef, cuttlefish or some sort of poultry.
Accommodation in Rompin is patchy, although there are a couple of resorts in the area, do not expect too much in the way of 5 star options. Most of the local hotels would barely achieve a 2 star rating so do your research. Most regular visitors will go the serviced apartment or house option, and there are many, which offer a more home style environment, although again do not have high expectations with regard to furnishings and included amenities.
---
Richard Batka is CEO of The Wise Traveller, a some time writer, regular traveller and someone always humbled by the wonders of the world.
---