To taste the flavors of Vietnam's food, relish the culture, and appreciate the heritage of Hanoi, one must go directly to the city's old town's bustling streets, which date back to the 11th Century. Crowded and chaotic with that distinct Asian spicy air: it's here that you will see exotic Vietnam in all its nuances, both good and bad. The good—food, food, and more food. The bad is dodging the motorbikes parked on the cracked, uneven walkways or the surging attack of various wheeled contraptions belching smoke when trying to cross the road.
Hanoi's Old Quarter is a fascinating view back in time, showing sticky remnants of its French colonial past and the period of Chinese occupation clinging to its 36 narrow streets of mayhem. The area is drowning in people scurrying down alleys, shuffling chaotic streets, or squatting on doorsteps deep in animated conversations. The quirky thin shophouses iconic to this area have survived the country's wars and foreign occupation. Referred to as 'cube' houses and symbolizing the communal view of home and commerce, they emerged from village trade traditions when a craftsman or trader would build a market stall and live in ramshackle quarters at the back of their pseudo shop.
These tall skinny remnants date back to the Ly and Tran dynasties and sit in streets named after the trade of the occupants living there: such as Hang Dong (copper) or the street named after the restaurants dedicated to Hanoi's traditional dish 'Cha Ca.' You will find a porcelain street, a hardware street, and a haberdashery street, giving you hours of oddball gawking. Clans of migrants to the area sometimes came from the same village. They would huddle in one particular zone building pagodas and temples in testament to their religious beliefs.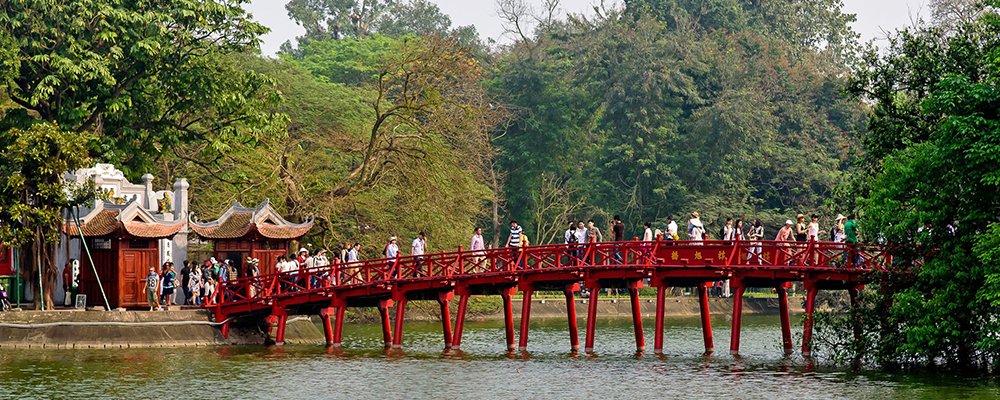 A part of the Hoan Kiem district, the Old Quarter is located west of the Red River and Long Bien Bridge on the east side of Ho Chi Minh's mausoleum. The oldest temple built in the 9th Century, Bach Ma, is worth poking your nose into. The obligatory stroll around Hoan Kiem Lake is a snapshot of Vietnamese life, with locals relaxing on benches reading a newspaper while the energetic will exercise. Others relax and chat over a coffee from a footpath barista, of which there are many. Early morning is the best time to check out the blooms at Quang Ba Flower Market, where every breath you take will be infused with floral fragrances. The off-beat Train Street is an eclectic experience, especially if you happen to be there when a train rumbles through—if not, then while away some time slurping on a Vietnamese coffee as you people watch the passing parade.
Shopping in the Old Quarter can be a lot of fun. Precious stones can be found on Hang Bac Street. Tailors and silk fabrics are best seen in the street of silk, Hang Gai. Traditional medicines will have you sniffing your way up the road named after a renowned Vietnamese doctor, Lan Ong. While paper lanterns, decorations, and kids' toys will dazzle you when strolling Luong Van Can and Hang Ma streets. When you tire of zigzagging around motor scooters parked on the footpath or dodging the food vendors' café setups of kiddy plastic chairs, head to the food market, Long Bien Market, and cruise the stalls where the local chefs buy their seasonal produce. Or, go to the oldest market, Dong Xuam, to pick up a tacky souvenir, local handicraft or the inevitable fashion brand knock-off. The ground floor is for the food voyeur to witness the jumble of live fish in water containers of all descriptions and butchers hacking at various animal parts. The weekend night market in the Old Quarter is a sight to behold as you can walk the streets without fearing that you will be run over by a motorbike—they are banned during market time. Hone your bargaining skills as you roam around the charming old streets cloaked in market stalls while gobbling down street food.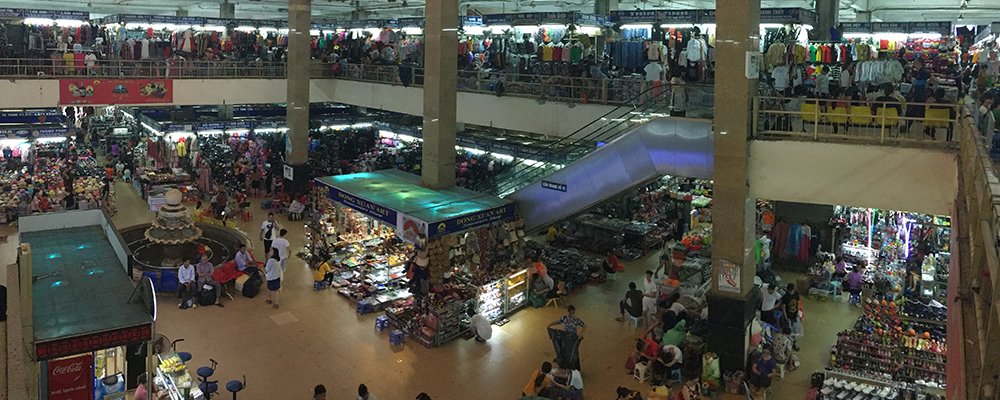 Street food is synonymous with Asian countries, and the Old Quarter is where you will find some of the most iconic dishes available. Aromatic herbs will waft up your nose from a bowl of Bun Cha (vermicelli noodles, BBQ pork slices, and meatballs in a broth) or Bun Thang with its chili sting, coriander, shallots, mushrooms, and green onions swimming in a broth with noodles and strips of pork or chicken. When you wrap your mouth around a Bahn Mi, you will think you have reached nirvana—crusty baguette chock full of pate, meat, and pickled vegetables seasoned with chili and herbs.
A stroll around the Old Quarter is complete once you have gorged on the iconic dish 'Cha Ca' that dates from the French Colonial era. It's a do-it-yourself dish as you have a single wok burner on the table before you. Other items presented to you so you can play with your food are pre-prepared snakehead fish (local freshwater fish) marinated in turmeric, garlic, galangal, shallots, and a few more seasonings. Next, little pots of chili, roasted peanuts, pungent mam tom (fermented shrimp paste), and fish sauce come out to your table with a bowl of vermicelli noodles and a large bowl of greenery consisting of coriander, mint, dill, and green onions. Then it's time to glare at your sizzling pan while the feast is cooking and you are drooling in anticipation.
---
Gail Palethorpe, a self proclaimed Australian gypsy, is a freelance writer, photographer and eternal traveller. Check out her website Gail Palethorpe Photography and her Shutterstock profile.
---