Many of us around the world are still practicing lockdown and stay-in-place restrictions. And whether we're working remotely from home or trying to fill up our agenda-free days, finding activities during quarantine is challenging.
One brain-engaging option which raised my interest was an invitation recently to a virtual wine tasting, via Zoom, hosted by Lamberto Frescobaldi, the gentleman who reigns over many Tuscan wine estates under the Frescobaldi name. The winery provided the wines, and I jumped at the chance to spend an afternoon swirling, sniffing, and sipping five red wines and one rosé with the boss.
Prior to this virtual tasting and to get familiar with oenology terms, I enrolled in a wine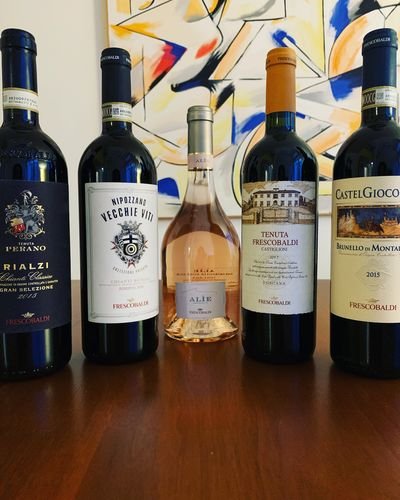 sensory tasting class on Coursera where I learned wine terms for flavors, aromas, grape varieties and other sensory guidelines used by professionals when they taste red, white and rosé wines. I also consulted "Sangiovese, Lambrusco and Other Wine Stories", a useful book about the ancestry of these vines, their migration and vinification.
Old World Wines, categorized as classic or noble, are grown by winemakers who have a huge respect for wine varieties and terroir, the geography of the land where their vines are growing. Winemakers who make wines that reflect their own taste preferences by blending different grape varieties characterize New World Wines.
There are 12 classic white wine grape varieties (such as chardonnay, riesling, sauvignon blanc and syrah) and 12 classic red wine grape varieties (merlot, pinot noir and cabernet sauvignon, for example). There are between 4,000 and 5,000 other grape varieties for wine growing.
When you begin a tasting, you swirl the wine in a stemmed glass to release the aromas and give it oxygen (it's been corked up in a bottle for some time), then take a look at the color of the wine. Next, you sniff the wine to get its aroma, which ranges from floral, grassy, spicy and peppery to earthy. You also check its texture, or body, which is more robust in tannic red wines.
Then comes the sip and swirl on your tongue (before swallowing), when you detect acid, sweet or bitter flavors. When you finally swallow, notice the finish of the wine, from the tongue to the back of the mouth and down the throat, which is short, medium or long.
Many of Frescobald's wines are made with the sangiovese grape, a versatile grape variety for rosé wines, young red wines and wines suitable for aging, as well as for use in blends for both red and white wines. Terroir (soil, weather, climate, slope and sun), which adds to the challenge of growing classic wine grapes, is the most significant pillar for all the wines in the Frescobaldi portfolio.
Nipozzano Vecchie Viti Chianti Rufina Riserva DOCG 2015 showed a little peppery aroma with a lingering finish. Tenuta Frescobaldi di Castiglioni 2017 is the oldest estate in the Frescobaldi portfolio. Here vines were grown and harvested as far back as 1000 AD, and wine is now made with three grape varieties: sangiovese, cabernet sauvignon and merlot.
Tenuta Perano Chianti Classico Gran Selezione Rialzi DOCG 2015 is the newest wine in the family's business and is 100 per cent sangiov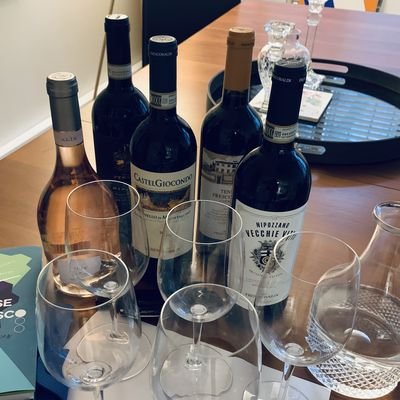 ese grapes grown in a high elevation, rocky soil, and layered with aromas of black currant, black pepper and tobacco. CastelGiocondo Brunello di Montalcino DOCG 2015 is a classic sangiovese grape wine grown in a district well known to many wine lovers and features a ruby-red hue and raspberry and blueberry aromas transitioning to spicy, cinnamon and leather fragrances.
Because I live in a climate zone that's transitioning into spring, the idea of tasting Frescobaldi's Tenuta Ammiraglia Alìé 2018 and another rosé seemed to be a good idea while we continue to sit out this pandemic. Alìé is an expressive rosé, bold and juicy, with melon, rose and sage aromas coming from syrah grapes and is light and pale in color.
Other rosés, made in regions like Provence for example, are made with grenache, cinsault and mourvèdre. Château Peyrassol, is located in the heart of Provence along routes traveled by Crusaders and Knights of the Templar. The 2019 vintage is pale lychee color with citrus, florals and a trace of minerality and is a blend of cinsault and grenache, thin-skinned grape varieties that grow well in a warm climate.
Go ahead and plan your own virtual tasting with friends and either decide ahead of time on the wines or wine varieties, or make it more casual and let everybody gush about their favorite wine.
Either way, you'll be able to enjoy wines in a relaxed environment with free-flowing conversation!
---
Isabelle Kellogg's press relations career, with a speciality in travel and hospitality, enabled her to make an easy transition to journalism and write about the topics she loves.
---