Location: The Mark Hotel is in the heart of Manhattan's Upper East Side neighborhood (one of the highest income zip codes in the city), off Fifth Avenue and 77th Street, close to Central Park and Madison Avenue.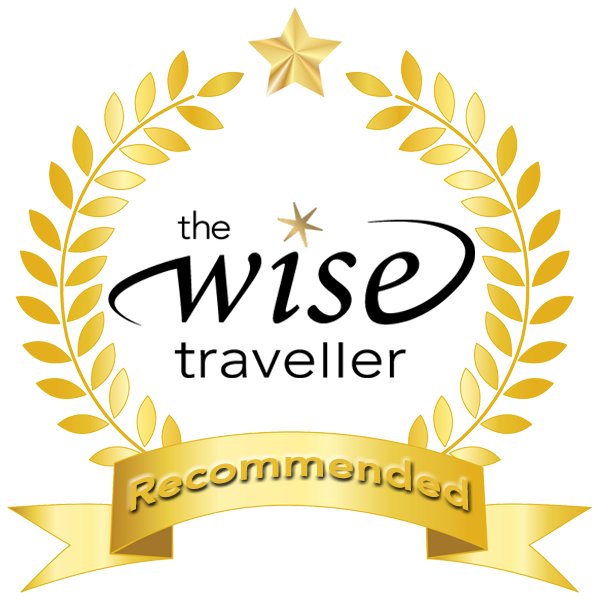 Appearance: Ensconced in a gracious, pre-war building, The Mark Hotel's claim to fame is the total gut renovation (split between 100 hotel rooms, 50 suites and residences) that it received under the guidance of French interior designer Jacques Grange. Grange gave it his signature bold, geometric look, plus a dash of whimsy, with elements like modern light fixtures and quirky furniture, against a black-and-white marble floor in the lobby. Personnel are dressed in formal uniforms (suits), which contribute to the impression that this hotel understands its well-dressed neighborhood clientele who continually support the restaurant and bar.
Number of Nights Stayed: One
Guest Room: King size suite with street view
Room Furnishings: After the splashy lobby, guest rooms are luxuriously furnished in subtle tones of ivory and cream. You feel immediately when you enter your room that everything has been designed using high-end materials. The closets are armoires, and there are so many of them! The mini bar is not just a fridge under a cabinet; it's also a sliding fridge drawer with a separate ice cabinet. The overall look is calming, but makes you feel you entered a super deluxe master suite aboard a very expensive yacht.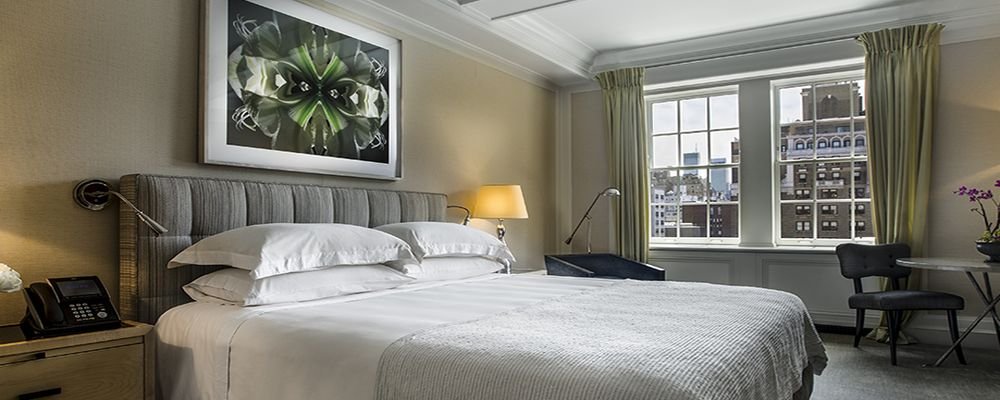 Amenities: Everything is in abundance, from the towels (heated towel rack), to the over-sized bath products (shampoo, lotion, shower gel) in the bathroom (tub and shower are separate) to the hangers in the closets and the cloth bags for laundry service. An iron and ironing board are included. Note pads comprise separate pieces of engraved paper held in a leather block with a pen. Very classy! We were also offered a print version of the Sunday edition of The New York Times (definitely a luxury for those of us who read news from a smart phone), which was delivered in a cloth tote bag.
Was the room clean, comfortable (including the bed) and in good condition? One of the outstanding particulars of this hotel is the soundproofing. Bed linens are luxurious, and touch- panels control lighting. The room was clean and well-maintained.
Hotel Restaurants & Bars: Renowned chef Jean-Georges Vongerichten helms the restaurant and bar at The Mark. The menu is pricey, but serves a variety of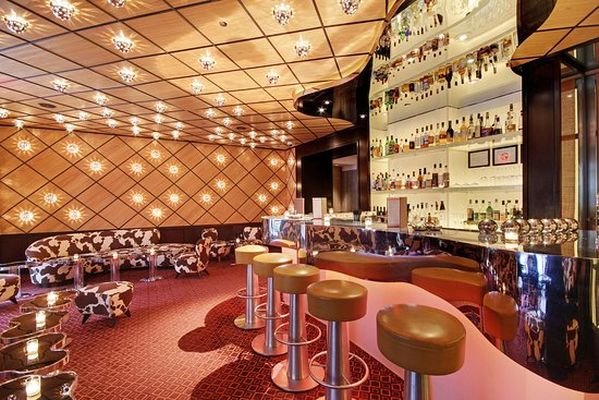 appetizers, main courses and desserts, thus appealing to its neighborhood clientele and international guests.
We enjoyed morning coffee (generous carafe of excellent hot coffee) and croissants (very expensive) in the swanky bar, which turns into a heaving scene after hours. The dinner didn't disappoint. Service staff members, from the front end to the back of house were professional and well trained. We dined with friends, and as a foursome, enjoyed a sampling of appetizers (truffle pizza, crab cake, among others) and main courses (The Mark burger, sea bass, pasta). Dessert is worth skipping.
Room Service: Didn't order.
Fitness Facility: There is a smartly designed fitness room on the second floor, which is well maintained, offering a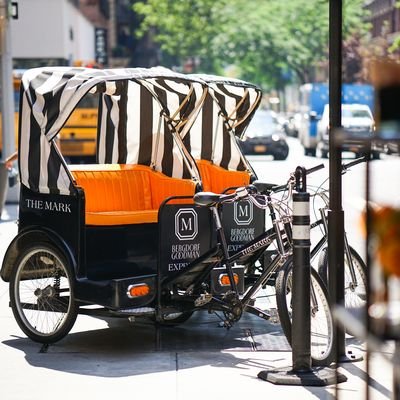 good selection of equipment.
Hotel Staff: Everyone, from the doormen to the reception/concierge staff, was personable but not overly solicitous, exuding just the right amount of professionalism.
Conclusion: The Mark is an expensive hotel in every aspect, but there are no telltale weaknesses in the service, public spaces or guest room designs. It runs like an expensive Swiss watch. Any hotel at less than a five-star level would have a difficult time being accepted by the neighborhood's fussy residents, as well as international travelers who expect a high level of service and are willing to pay for it.
Wise Traveller Star Rating: 10/10