Biodiversity Nature Resort is a diver's paradise. Still, you can get up to plenty of other antics if blowing bubbles underwater is not your thing. It's an isolated tropical hideaway where days are spent doing as much or as little as you wish. The ocean is at your feet every morning when you wake up to the gentle lilting sounds of birds, and coffee is ready to enjoy with your feet in the sand. A visual feast of endless blue is laid out before you. If you are lucky, you may see a pod of dolphins playing follow the leader as they lazily arc up and down in the water close to the shoreline.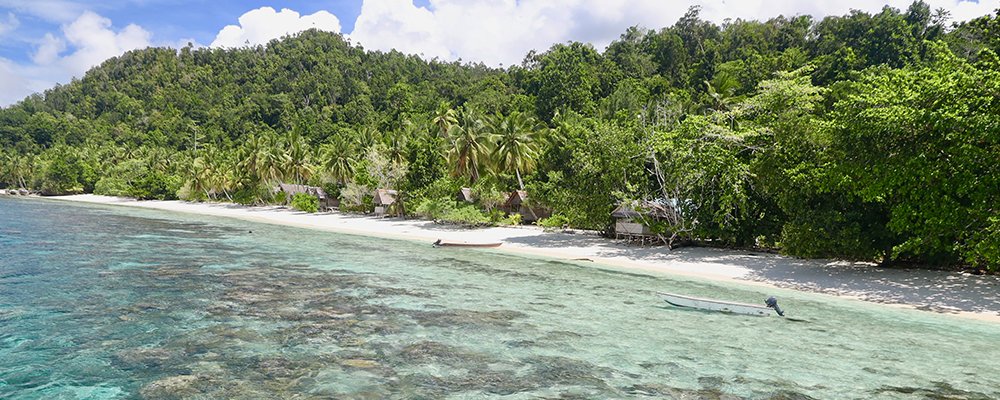 There are only 9 spacious beachfront cottages set under nature's lush green pergola on the foreshore of a sheltered nook. Each is positioned to have maximum privacy from its neighbor—think wooden hut meets beachside chic with a rustic element. A footbath at the bottom of your verandah steps allows you to wash the sand off your feet before entering your sanctuary. Two relaxing chairs and a table on the balcony set the scene for reading moments if you don't want to slide into a hanging hammock for a nap. Indoor-outdoor bathrooms let you dance under a jungle bower while showering. Personal bathing products provided are organic and eco-friendly. And, comfy beds are draped in mosquito netting, so bugs can't invade your dreams.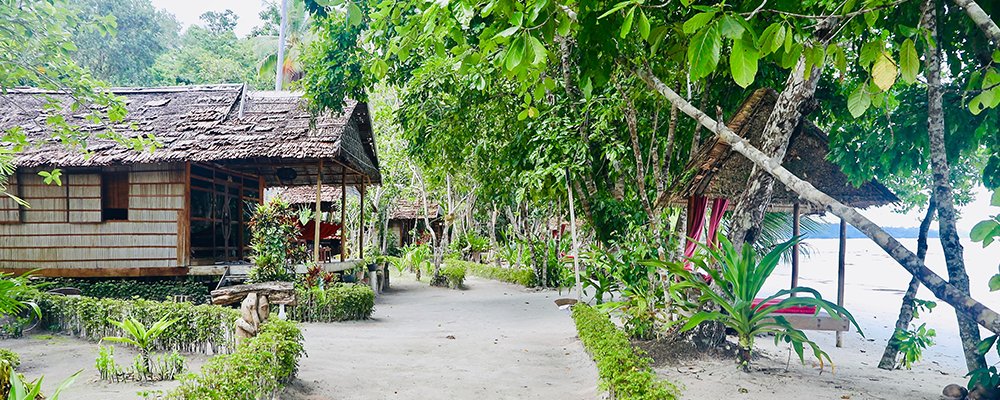 Double glass doors open onto the verandah giving panoramic views of the ebbing and flowing ocean tides. The motion allows the house reef to peek above its watery bed in all its glory. Your own dedicated beach bale sits under swaying palms if your partner dominates the hammock for siestas. Two sun lounges are nestled on the sand in front of your cottage for those into sun-worshipping. Your world will quickly become in tune with your surroundings. The sound of whispering salty breezes amidst swaying palm trees and brilliant sunsets silhouetting the long jetty as you savor a sundowner at the beach bar. Soft moonlight will guide you back to your hut after a sumptuous dinner and chatter with fellow guests.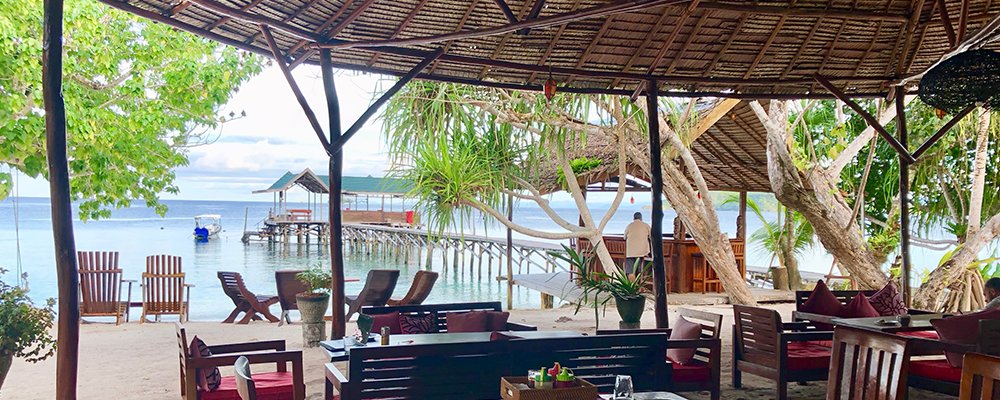 As you step off the long-legged wooden jetty, the large dining pavilion dominates the arrival area. Wifi is only available for a few hours each day in this area, giving you the perfect excuse to totally disconnect from the outside world. With a combination of relaxing couch areas and big tables where meals are held family-style, you can grab a coffee or tea at any time during the day. Every mouthful of food is a journey into the traditional tastes of the region created with loads of love and care in the preparation. Think mouthwatering curries, crisp salads, and my favorite, empanadas of potato and cheese. All ingredients are sourced from local villages and fishermen—the fish is delivered still dripping from the sea. Vegans, vegetarians, and gluten-free dietary requirements are all catered for.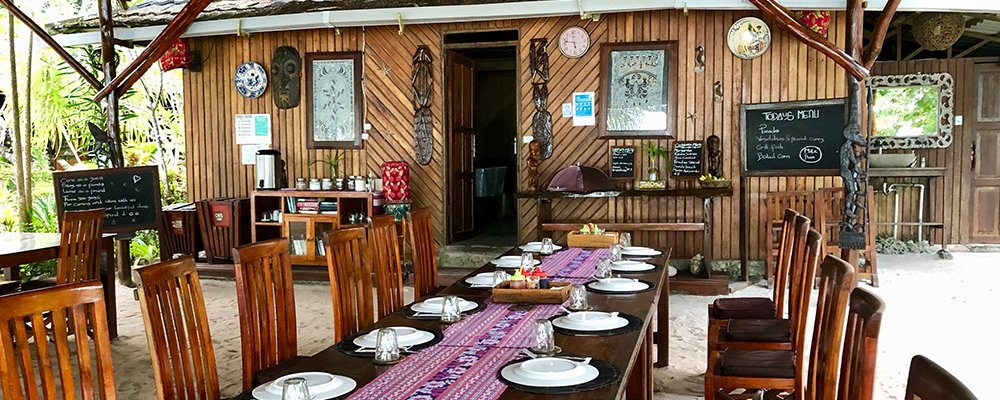 Staying at Biodiversity Nature Resort Raja Ampat is an eye-opening experience. Busy birds nibble on fruit dangling from trees. The cheeky resident Spotted Cuscus (similar to an enormous possum) runs across roofs or shows off doing acrobats on branches. One morning, prepare for an uphill jungle hike in the dark to spot the rare and exotic Red Bird of Paradise. The males put on an incredible dance routine of flashing plumage as they vie for the female's attention. Take the time to stay above water and visit the local villages where many staff live with their families, experiencing the culture of generations. And jump on board a boat for sundowners navigating the narrow passage between Gam Island and Waigeo Island. Glassy waters and stunning views hit by ruby red sunsets will give you a new respect for the wonder of nature. Grab a kayak and explore alabaster fringed and untouched islands at your own pace. The must-do when in Raja Ampat is to visit the Fam Islands and climb the steps to view opal-colored waters dotted with incredible limestone islands.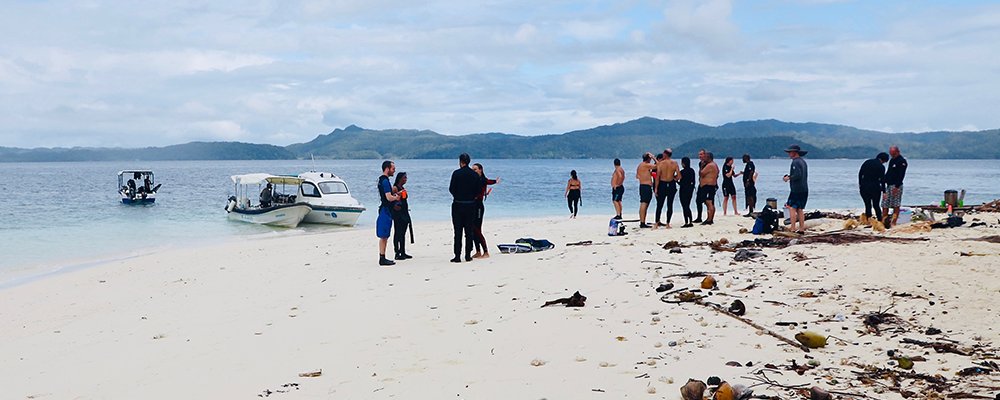 Raja Ampat is synonymous with world-class diving locations. For non-divers wishing to experience the blue abyss, you can learn how to dive at Biodiversity Nature Resort with accredited diving instructors. Or, merely snorkel the depths, as most diving trips from Biodiversity Nature Resort include a suitable site for snorkeling. Where the Indian and Pacific oceans meet, Raja Ampat's waters are referred to as a "species factory." It's an underwater zoo—13 marine mammal species of which the dugong is included, giant clams, 700 types of mollusks, more than 1,300 coral reef fish species, 5 species of endangered sea turtles, and 57 mantis shrimp species. The underwater viewing list that will give you bragging rights includes unique pygmy seahorses, Papuan garden eels, and plenty of reef sharks and turtles. You may catch sight of the elusive and strange walking shark that hasn't changed for millions of years. Depending on the season, swimming with black mantas may be on the agenda.
Staying at Biodiversity Nature Resort Raja Ampat is to take a deep dive into a world that will astound you and leave you in awe of the beauty of this untouched region.
---
Gail Palethorpe, a self proclaimed Australian gypsy, is a freelance writer, photographer and eternal traveller. Check out her website Gail Palethorpe Photography and her Shutterstock profile.
---