Mingalabar! Greg and I have just returned from two weeks driving through Myanmar. This is our sixth trip with Steve, Jack and Great Road Journeys . This is also, I understand, the only self-drive tour currently available in the country.
Myanmar, for me, is a little like Thailand—it has always inspired romantic visions of long-ago palaces, spices, and greenery. From what we were able to see from some of the historical sites, this idealistic vision was definitely once a reality, for some. Bamboo housing now stands behind impressive stone street fencing, and decadent stone pools lie abandoned in crop fields. The very striking temples stand testament to an empire that was once better appreciated than it perhaps is today.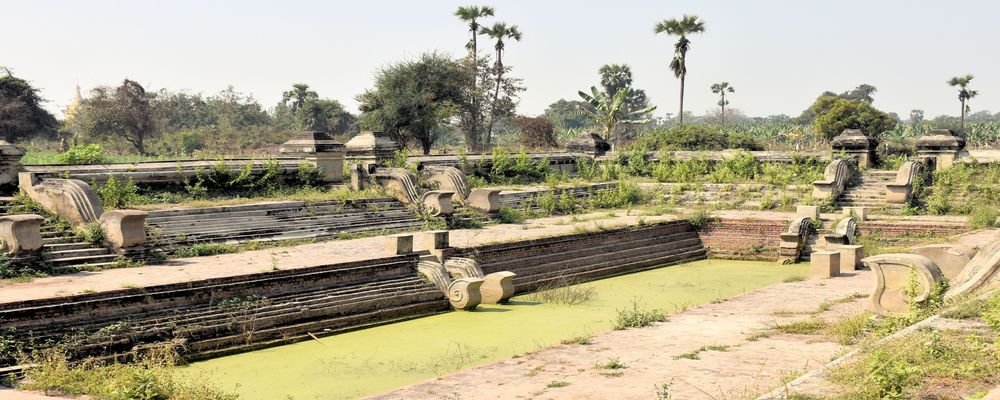 Myanmar is definitely a mixed bag for driving. They drive on the right, however most of the tollgates are geared for the other side of the car. (Given there were two people in my vehicle, we were OK.) The cars are all second-hand imports, so right and left-hand drive is split about 50/50, and so it was with our rental cars. I suspect road speed limits started in miles because the cities now have the limit of 48 kms per hour.
Burmese drivers are very polite, and driving here feels a little like a waltz as everyone weaves and stretches. Trucks will tell you when it is safe to pass and, more importantly, they will tell you when it is not safe. They will also signal when stopping at traffic lights (which are sometimes difficult to see). I had stuck behind a lorry one night as he had a lot of lights, and it was very dark. Of course, he pulled over to let me pass! We were involved in several traffic snarls that were all resolved quietly and without the cacophony of horns that would denote our being in neighbouring India.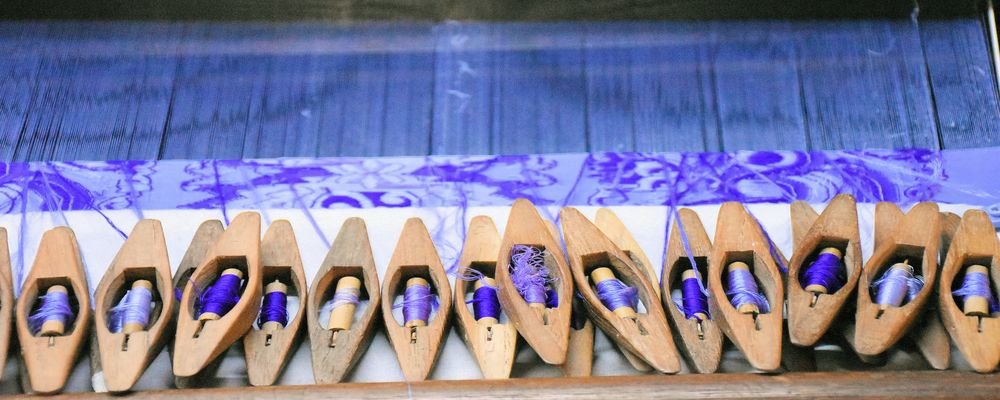 This trip was a trip of capitals, from the economic capital of Yangon to the official capital of Naypyidaw and from the royal capital of Mandalay to the ancient capitals of Pyay and Bagan. Naypyidaw was built about a decade ago, however the only embassy to move to that city has been Bangladesh. The result is that the city is empty. We drove down a 20-lane highway entirely on our own. I would describe it as a ghost town, but that would mean that it was once appropriately inhabited. It was a very surreal experience. Yangon has banned bicycles and motorcycles so the traffic is really not the most pleasant.
Bagan has such a plethora of temples and monasteries that you simply walk up the road from your hotel to find your artistic shot. They can also be viewed at sunrise from the basket of a hot-air balloon. This was a major feat given that I will not walk across a mesh walkway that is above the ground!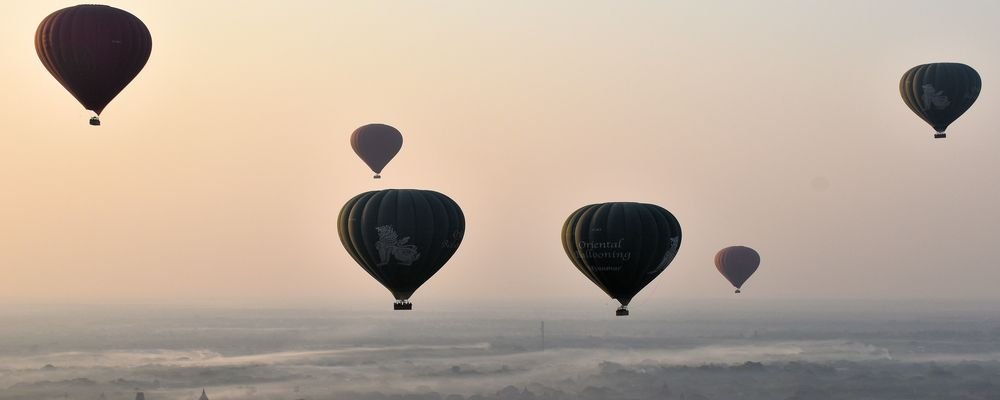 If you are a fan of pagodas, stupas and Buddhas, then there are plenty to see and not just in the major areas. It was not at all unusual for us to pass a lot of these out in the countryside, often on top of large hills, with long stairways for access. Some were in disrepair—Myanmar suffers from earthquakes—and a lot are clearly still well looked after. There were caves and gardens, which housed thousands of Buddhas. I am a little proud of having made my way up (and down) the 1,729 Mandalay Hill stairs without too much whining!
We spent time on Inle Lake looking at the floating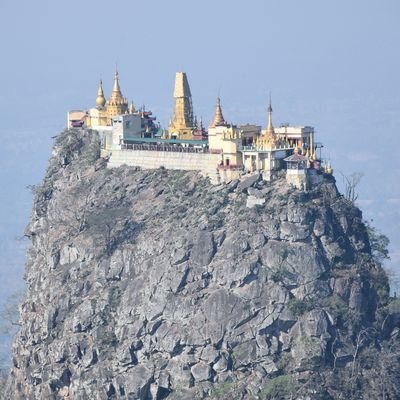 gardens and houses and visited the cat monastery, which used to have cats that performed tricks—now they are just retired. We took time on the Irrawaddy River to visit the Mingun Pagoda, which commenced construction in 1790 and was never finished because of the prophecy that the King would die once it was. We stopped to watch the local sugarcane fudge being made, and we also spent time watching Buddhas being carved.
The polarization between the haves and have-nots appears to be great in Myanmar. I think it would be fair to say th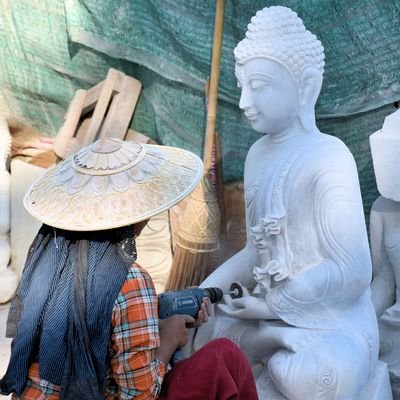 at Myanmar is a wealthy country (from the standpoint of its resources), however, I have to question what is being done with those resources. As an example, road works are extremely low-tech, with groups of people hand placing the stones in the road to provide a base for the tar. Health and safety considerations also frequently appeared to be overlooked.
Myanmar is a fairly modest country, and public displays of affection are discouraged. Men and women will also be expected to dress appropriately when visiting the temple sites. This meant the wearing of long skirts (for the women) and lungis for the men. Given this level of modesty, it took a little while for us to come to terms with the fact that a generally accepted way of gaining attention in cafes and restaurants is by making what we would refer to a 'kissing noises'! I actually got quite used to the habit. Greg? Not so much!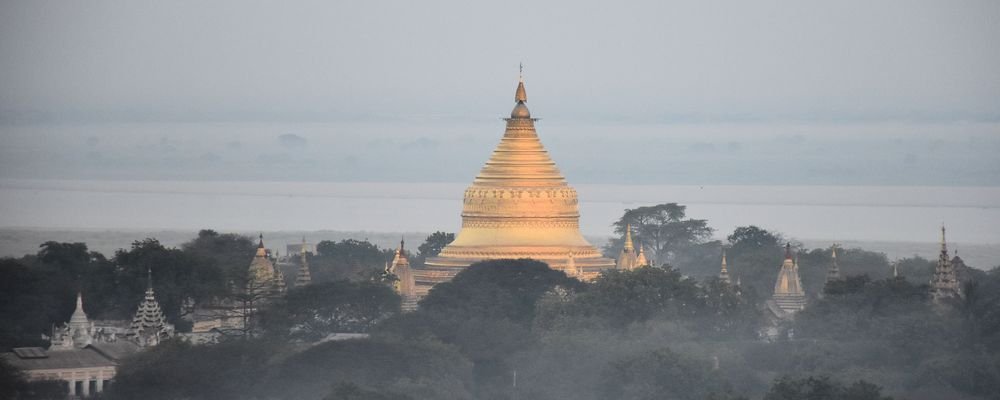 While there are other countries that may have more breathtaking natural scenery and more luxury, Myanmar will be the country that I will continue to ponder on and watch with interest. It is the one country I will want to return to in the distant future, as I am sure it will be very different from today.
---
Rachael Fitzpatrick claims to be an 'accidental' traveller who has lived outside of her native Australia for over 20 years. She likes driving and has driven through places such as India, Vietnam, Peru and Iceland.
---