When 5-star hotels become ho-hum for your adventurous soul, consider a glamping experience. Then, you won't have that feeling of being trapped between 4 walls breathing stuffy air-conditioning. Or, remembering what floor-level your palatial boudoir is located on after navigating an expansive lobby of indulgent man-made decor.
Glamping puts you back into nature, where the unexpected can happen. The oppressive feeling of concrete and glass gives way to being totally surrounded by nature. Imagine a bedouin tent in the desert in Oman, a treehouse hidden by dense jungle in Borneo, or maybe a yurt in the wilds of Patagonia.
Glamping doesn't require tent-pitching skills or ablutionary woes. You will have the benefits of a 5-star resort while being up close and personal with fresh air, the local wildlife, and uninterrupted panoramic views. Perhaps the odd bug or two scurrying around will bring you back to earth.
Below are 5 of the best:
Thailand
Four Seasons Tented Camp, Chiang Rai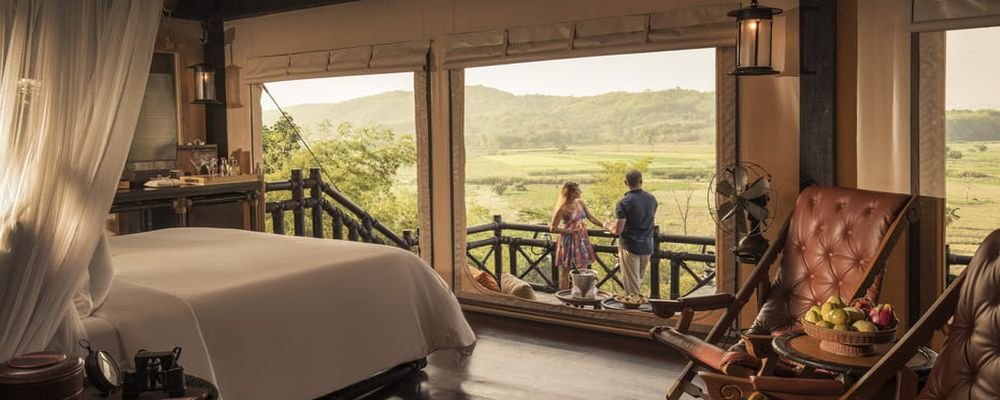 Sitting in the golden triangle where Thailand greets Laos and Burma, Four Seasons Tented Camp is as magical as the destination in which it's located. A true escape from civilization—but with 5-star amenities glamping-style—the area is a playground for the local Asian elephant herds. There are rugged mountains to gaze upon, flowing mammoth rivers, bamboo jungles, clean fresh air, and wooden hot tubs on verandahs. The decadent Four Seasons' spa is almost superfluous, but not quite.
Morocco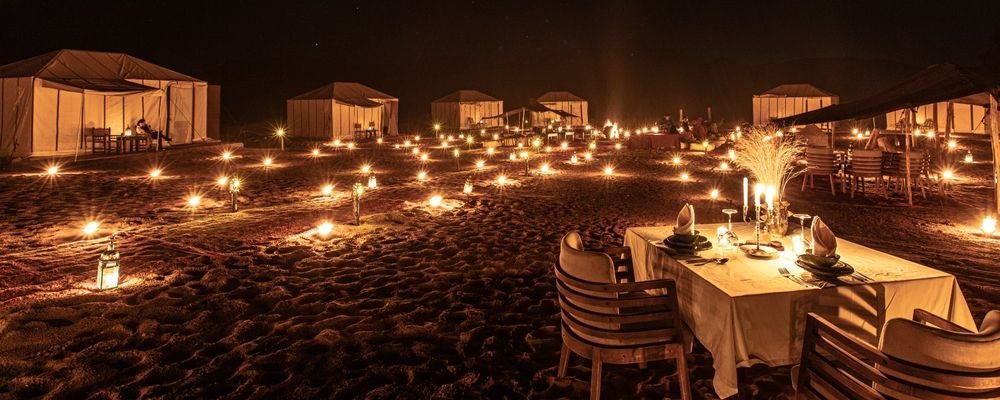 The brilliant stars in an ink-black night, the tranquillity of silence, and the ever-changing bright hues of Erg Chebbi sand dunes in the Sahara Desert will have you spellbound at the Merzouga Luxury Desert Camp. Wrap a turban around your head and sip freshly brewed sweet mint tea. Sleep in a luxurious traditional Berber nomad tent created from camel skin, and ride a camel on the shifting sands when the sun is setting. For holistic souls, you can whisper a Tibetan sacred chant during a yoga session as the sun greets the day. Recline on colorful hand-knotted Moroccan rugs where plump cushions allow you to totally relax in zen-out mode or indulge in traditional Moroccan dishes dining like royalty.
India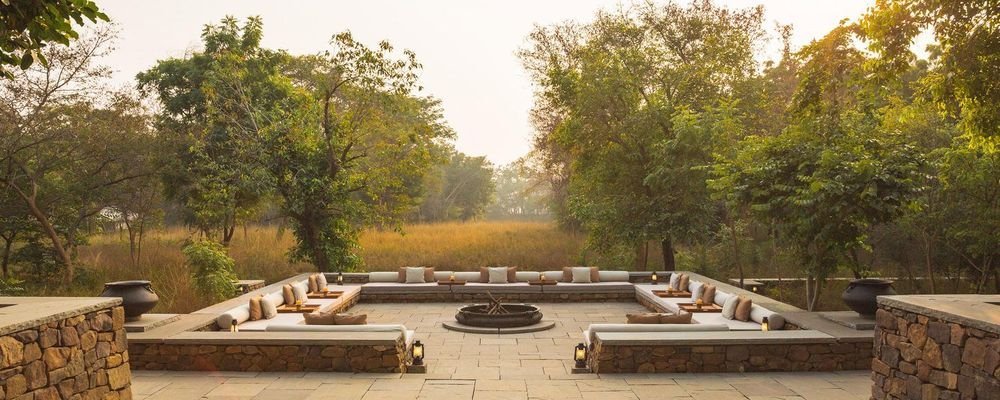 Peer at wild tigers, say a prayer at a Hindu temple, poke around an ancient fort, or trek amongst deserted ruins. Ride a majestic Marwari horse revered by the Rajput royals on a safari through the terrain known as the Land of the Kings. A glamping stay at Aman-i-Khas is utter decadence that includes your own butler to cater to your every whim. Located on the perimeter of the Ranthambore National Park, there are only 10 elegant and luxurious tents with freestanding bathtubs to wallow in and private sun decks from which you can watch the flitting parade of birds. Naturalist guides will take you up the flowing Chambal River, where water turtles and thin-snouted crocodiles hide, or jump in a jeep and explore the rural surroundings.
Australia
Sal Salis Ningaloo Reef, Western Australia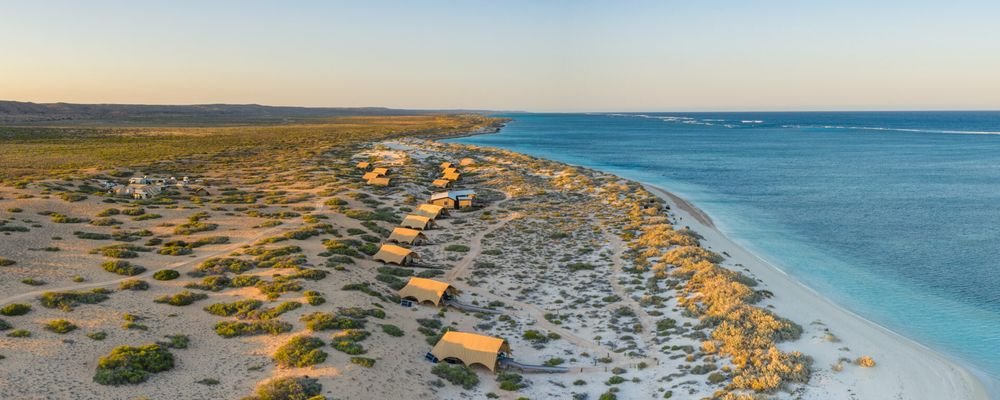 Branded as 'Where the outback meets the reef,' Sal Salis is a boutique eco-luxe wilderness haven of bush and beach nestled beside the World Heritage listed Ningaloo Reef. It's possible to snorkel, kayak, swim with whale sharks or humpback whales, walk ancient gorges or simply gaze at the stars at night. Totally unique, understated spacious wilderness tents dot the sandy shores of the Indian Ocean's blue water. You will be seduced by famous Western Australian wines as the sun sets over the horizon. At the same time, your taste buds will do a happy dance with dishes created from local seasonal produce.
Kenya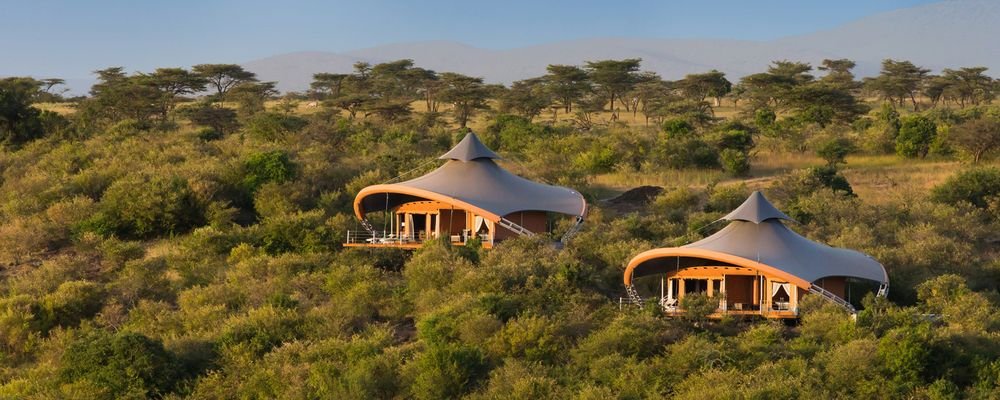 Glamping tents that defy all of the rules of camping, Mahali Mzuri is the baby of Richard Branson of Virgin fame. Proudly perched on a gentle rise of magnificent wild African bush overlooking a waterway where the animals come to drink; only 24 guests can be accommodated at any one time. Open, spacious, and definitely elegant, you can watch the passing animal parade from the moment you open your eyes in the morning to the sun setting at night. Mahali Mzuri is for those seeking the ultimate in an African safari, from pampering yourself with a spa treatment to taking a refreshing dip in the outdoor pool in between an eye-popping game drive. Dine in the open bush or on the candle-lit deck savoring the flavors and spices African cuisine is renowned for. Maasai Mara is the land of the great annual migration, and you will be right in the middle of it.
---
Gail Palethorpe, a self proclaimed Australian gypsy, is a freelance writer, photographer and eternal traveller. Check out her website Gail Palethorpe Photography and her Shutterstock profile.
---