The history of Hari Merdeka (aka Hari Kebangsaan) relates to the day when Malaysia gained independence from the British Empire on the 31st August 1957. In commemoration, the 31st August was declared an annual holiday. Whilst "Hari Malaysia" relates to the 16th of September 1963, when Sarawak, Singapore and North Borneo federated with the state of the Federation of Malaya formed that same year. Singapore became an independent nation in 1965, when it was expelled from the federation.
The official Declaration of Independence was read out at the Stadium Merdeka that sits in Kuala Lumpur, when the lights were turned off for two minutes of darkness, whilst the British Union Jack was lowered, and Malaysia's own flag was raised in its place.
Celebrating Hari Merdeka in Malaysia is an annual event, with each year bringing a different theme promoting ethnic unity. Kuala Lumpur is the place you want to be to experience the full hype and fun, but all major cities have celebrations. You will want to grab your camera to take plenty of pictures during the Merdeka Parade, when you will witness a royal procession, cultural performances, stunning floats of all shapes and sizes and a military demonstration. Everyone appears to be holding a flag and madly waving it.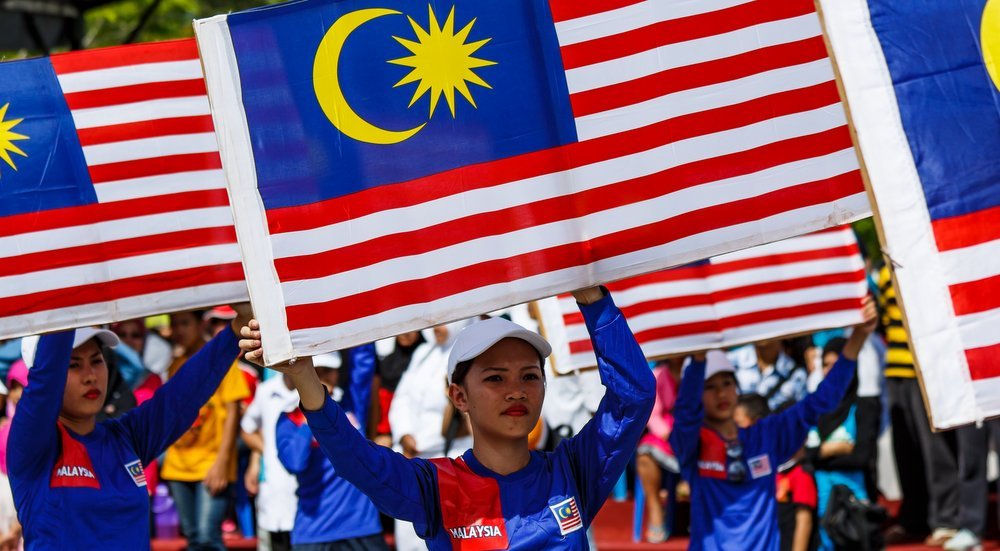 This generally begins and ends at Merdeka Square, but if the route changes for any reason, it is merely a question of asking a local where to hang out, madly waving your flag of "stripes and glory" (Jalur Gemilang) and shouting "Selamat Hari Merdeka" (happy Independence Day), sounds like: seh-lah-mat har-ee mer-day-kah, to get the pronunciation correct.
Apart from the parade there will be a fireworks display that will blow your mind, not just your eardrums, numerous festivals to gawk at and buildings, houses and cars draped in waving flags, plus elaborate decorations smothering shopping malls. It is a visual feast all over the country. In the month leading up to the day, students gather en masse to perform in concerts or competitions.
A few tips for the intrepid traveller who finds themselves amidst the mayhem:
Join the throngs of locals who indulge in drinking "milo", as it is practically the national drink, coming in all forms from iced to cocktails.
When the locals say it is raining, be assured that it is probably a raging downpour with howling wind and loud claps of thunder.
This is a nation obsessed with having the biggest, highest, longest or tallest, from the Twin Towers to the third-largest Sleeping Buddha in the world. Malaysia is where you will find the highest mountain in Southeast Asia and the longest bridge, as well as the world's seventh-highest freestanding communications tower.
Squat toilets still exist, so practice at home to get your knees into shape before you arrive in Malaysia.
Bring your fantastic credit card plastic with you and don't worry about the bills until you get home, as this is a shopping mecca 24/7.
Leave those new shoes you may have just bought at the door of a home you plan to enter. Wearing shoes indoors is considered to be rude and offensive.
Don't use your left hand to eat; only your right hand is considered to be "clean".
Public displays of affection are a big "no no"; so don't even think about making out in the streets.
Relish the Malaysian cuisine, as it is one of the best, from its fusion of Chinese and Malay flavors to the blending of mamak dishes that are a combination of Indian and Malay. Tantalize your taste buds with some mee goreng mamak (yellow noodles with beef or chicken, soy sauce, veggies and eggs), apam balik (a sweet treat of a pancake-type omelet stuffed with sugar, peanuts and sometimes sprinkled with corn) or go for a roti john (slim bread smothered in condiments such as ketchup, mayonnaise, barbecue or chili sauce, either all together, or just one).
Malaysia is an incredible destination of bustling cities, stunning beaches and islands, lush dense rainforests and friendly locals. No matter what time of the year you are there, you will have a smile on your face, even if you are not waving a flag.
Tips for visiting Malaysia during Hari Merdeka
Language:

Official language—Malaysian (aka Malay), with English commonly spoken, plus Chinese dialects including Mandarin and Hokkien. Malaysians, predominantly those from India, also speak Tamil.

Currency:

Ringgit

Time Zone:

UTC +8

Population:

~31 million

Capital:

Kuala Lumpur (tips to visiting KL safely)

Weather:

Malaysia has a typical equatorial climate—high temperatures and wet months throughout the whole year. The east and the west coasts experience wet months at alternate times of the year, so you can go to the beach all year round. West coast is wet during April to October, whilst the east coast has a heavier wet season during the months of November to February.

Holiday known as:

Total confusion—Malaysia's National Day and Independence Day. Both are patriotic national holidays, but sometimes "Hari Merdeka" is called "National Day", which should be "Hari Kebangsaan" instead of Independence Day. To confuse the issue more, in 2011 the Merdeka Parade, which is usually held on Hari Merdeka, was celebrated for the first time on "Hari Kebangsaan", then throw in Malaysia Day (aka Hari Malaysia) and confusion reigns.

Travel Considerations:

Expect chaos and a hike in prices for accommodation, flights and public transportation. This is a national holiday, so banks, public services and government offices will be closed. Long-haul bus rides (think buses from Singapore to Kuala Lumpur) will be sold out early, as there will be insufficient drivers working.

This is a time to stay put and have some fun wherever you are, or go shopping with the maddening crowd of locals.

Date of holiday:

Independence Day (aka Hari Merdeka and Hari Kebangsaan) 31st August

Malaysia Day (aka Hari Malaysia) 16th September
---
Gail Palethorpe, a self proclaimed Australian gypsy, is a freelance writer, photographer and eternal traveller. Check out her website Gail Palethorpe Photography and her Shutterstock profile.
---