You've put in your hours at work, and now the time has come: You've rented a vacation home. It's the moment all that 9-to-5 nonsense has led up to. You've chosen the place, and you've paid your rent. What comes next? How do you make your rental your home away from home?
Packing
The first step into making your rental homey is figuring out what to bring from your home to your vacation home. Packing is crucial; forget things and you'll be running off to the store, wasting money on replacing necessities, and short changing yourself on time and resources. So what should you pack to make sure your home away from home is comfortable?
Entertainment. If you have kids, this is especially important. Movies, games, toys, or anything else that can make your downtime fun and relaxing is essential.
Comfort. Make sure to bring things to keep you and your family comfortable. What do you need to sleep at night? What keeps you comfy while chilling out on the sofa?
Food. You won't want to eat out for every meal — that can get expensive. Besides, sometimes you'll just want a drink or something to munch on. Don't forget spices and condiments. If you're a fast-food condiment package hoarder, now's your time to shine.
Gear. Going to the beach? Bring the towels and beach ball. Getting cozy in the mountains? Bring your snowshoes and skis. Whatever you need to enjoy your surroundings, make sure you've got that packed up.
As you pack, make sure your home is prepared to be safe and secure while you're away. Not only do you want to have someone water your plants, feed your pets, and gather the mail, you also want to ensure your house doesn't look empty. An empty home is a target for thieves!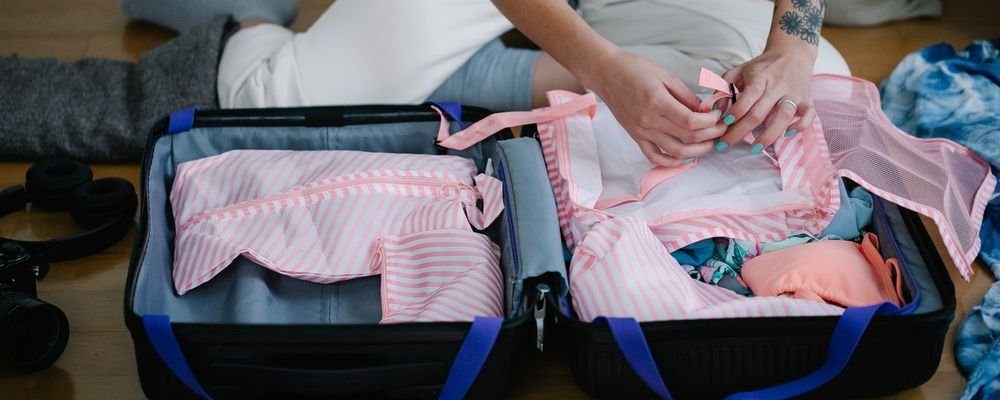 Road Tripping
You've got to get to your new vacation spot, right? Time for a road trip. Road tripping can be tons of fun or a pain in the neck, and oftentimes the way you pack can make a lot of difference. First and foremost, make sure you have emergency essentials — first aid kit, jumper cables, fire extinguisher, etc. — in an easily accessible place. It's important to be prepared for anything!
Pack the car in order of things you need the least often to most frequently. Start with the things you won't need until you get to your destination: Put those things in the deepest area of your trunk. Keep going until the things you'll need the most are at the easiest reach. Make sure everyone has what they need to be comfortable and entertained in their immediate area. Bringing snacks or stopping for food? Make sure you've got a place to store trash so it doesn't end up strewn around your car.
Make sure to pack things in the cabin to keep you and your family entertained. Games, books, audiobooks, or anything else that helps you pass the time is important. Plan some car games, like I Spy or 21 Questions. If you have kids, make sure they're involved in the planning phase of the road trip so you know they'll be into whatever activities you pick.
Settling In
You've arrived! It's time to get cozy. Get your unpacking out of the way so you don't risk rushing out to have fun and coming back too tired to put away groceries. Unpacking is just the tip of the settling-in process. Give the place a little sprucing up to make sure everything is up to your standards. Not sure what to check for cleanliness? Try a moving-in cleaning checklist. A checklist can also help you tidy up on your way out.
Make sure your stuff isn't just dumped into rooms; take the time to get organized so that your time in your vacation home is stress-free. If you have any medical needs, get all of your medication or equipment sorted. Make sure everything you need is accessible.
Once that's all done, hit the beach — or the slopes! You've got a lot of relaxing to do, so get to it!