The Resort
Aptly named, Mirage Whitsundays is one of those impressive properties that has you pinching yourself the moment you walk in the door of your accommodation. With its designer touches, magical views, and calming vibes, it literally oozes beachside chic.
Located at Airlie Beach, known as the gateway to the Whitsunday Islands, the property is close enough to walk into the bustling small main street if you wish, and far enough out of the hoi polloi to take a deep breath. It's the ultimate place to recharge your batteries or to have some family fun while exploring the wonderland of 74 islands floating on the Coral Sea's cerulean waters.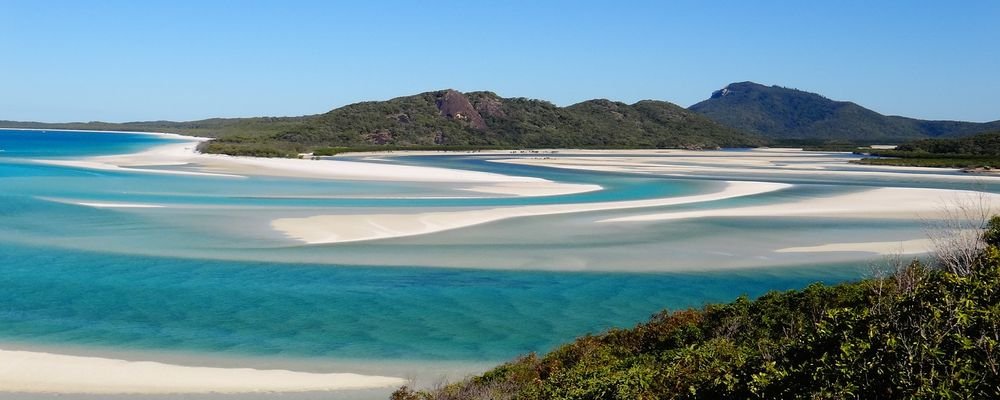 Number of Nights Stayed
Two nights – two bedroom deluxe apartment
How was the apartment?
Lofty ceilings with massive glass doors opening onto a large balcony and panoramic views of bobbing boats on sparkling ocean water instantly brighten your mood. Light, airy, and decked out in contemporary furniture, there's definitely enough room to do a little happy dance if you can't ignore that whimsical feeling.
Even if you have a few kids with you, there's plenty of space for everyone to have their own corner of contentment. Totally equipped with a big dining table and chairs for serious meal times, there's also a great outdoor setting on the balcony for al fresco munching moments. The shiny and suave elongated kitchen is complete with Miele appliances, plus there's a starter pack of goodies – think tea and coffee. Stunning bathrooms and a study area complement the luxurious vibe.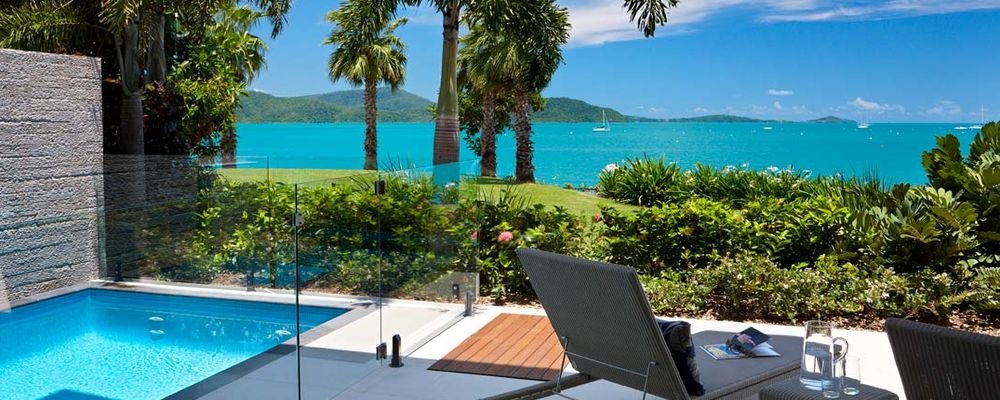 Mirage Whitsundays' villas have all of the apartments' attributes, but with an extra bedroom and a refreshing plunge pool to call your own. Large living areas spilling out onto private terraces give a playful and indulgent take on seaside luxury. If you have lofty aspirations of being in the sky with a 180-degree view, then the penthouse with its own 10m long lap pool is the accommodation you should desire. Having four bedrooms, each with private ensuites, the penthouse is a serious nod to decadence.
Mirage Whitsundays also offer disabled-friendly apartments for anyone that may need extra room for a wheelchair or special access. These apartments have the same stunning attributes as the other accommodation available. They're located on the first floor with direct access to the swimming pool, balcony, and elevator. The bathrooms consist of an incredible shower room with a wheel-in shower and grab rails for support.
Resort Facilities
Slink into your fabulous swimmers and dive into one of two swimming pools set in sprawling tropical surroundings. There's a luscious Lagoon Pool where the whole family can indulge in water frolicking and a spa pool to tickle your fancy.
Perfectly manicured lawns, wooden decking with comfy outdoor furniture and umbrellas to take the sting out of the sun, complete this family-style picture of holiday bliss. You can lazily stretch out on a chair while the kids take care of themselves in front of you – that's if they can swim. For the holidaying souls that do not have offspring to worry about, the Horizon Pool is where you can chill out in sheer bliss, tanning the body, taking a dip without getting splashed, and generally enjoying your own privacy with or without a good book.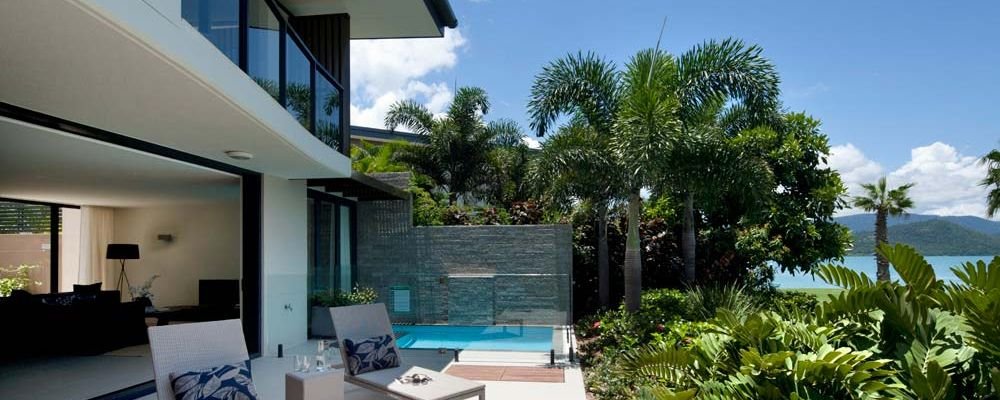 Exercising while on holiday has never been so easy. Escape into your own mind as you pound your feet on a running machine or pump your muscles on one of the state-of-the-art contraptions in the gymnasium. Large glass doors bring the outdoors in, giving you a view to mindlessly adore while you sweat your way through your exercise regime.
COVID-19 is interrupting many activities in our lives. Unfortunately, the elegant Satori Day Spa was closed at the time of my visit. When it does reopen, you will be able to indulge in self-pampering that your body and mind will be grateful for.
Hotel Staff
The smiling staff members at reception are totally considerate and helpful, making check-in and checkout a breeze. If you have any dramas during your stay or wish to organize a tour, grab a cab, or merely need advice – there's someone there to attend to you. During out-of-office hours, there's an on-site manager for emergencies.
Conclusion
Mirage Whitsundays is all about location, location, location. Whether you are a lone soul wishing to disconnect, a horde of friends or a big family, Mirage Whitsundays has plenty of space for everyone with a front seat to the ocean beyond.
Wise Traveller Approval Rating
One of the most spectacular self-catering accommodation options in Airlie Beach. We give it a Wise Traveller Approval rating of
10/10
Quick Facts:
How to get to Airlie Beach:
Hamilton Island plus a ferry/helicopter/seaplane or Proserpine, Queensland plus road transfer
Resort:
Boutique Luxury Self Catering Accommodation
Complimentary WiFi
Disabled friendly rooms
1, 2 and 3 bedroom apartments
3 bedroom villas
4 bedroom penthouse
Amenities: Spa, pool, and gymnasium
Website: https://www.miragewhitsundays.com.au/en/home/
Email: reservations@miragewhitsundays.com.au
---
Gail Palethorpe, a self proclaimed Australian gypsy, is a freelance writer, photographer and eternal traveller. Check out her website Gail Palethorpe Photography and her Shutterstock profile.
---