There's nothing like jumping into a car and heading off into the unknown, preferably without having the car motor blow up or a tire exploding. This is when some form of roadside assistance is necessary, especially with hire vehicles. It's all about having a bush wee when no public convenience can be found. Or, sitting in a fold-up chair on the roadside enjoying a coffee from a thermos where no people or cars are seen for miles. Breathing in that fresh air all by yourself or with your travel companions eradicates that COVID stultifying feeling of being locked in a box. The journey is the adventure, not the destination.
Some countries are famous for scenic road trips, such as New Zealand showcasing stunning landscapes of the Turquoise Lakes in Pukaki, thermal pools in Rotorua, and ethereal lakes cloaking the South Island. Driving around Italy is when a glass of excellent vino with lunch will have you hunting for a quaint hotel for the night. It signals the end of your travels for the day as your lunch will extend well into siesta time. The vineyard smothered land of Tuscany, the romantic villages clinging to sea-washed cliffs along Cinque Terre, or the old village of Lake Como give plenty of options for self-drive holidays. The coastline of Portugal or the wine region of the Duoro Valley provides the vehicle-wanderer a chance to discover some of the most ancient and quirky small villages and towns. The real road warrior will drive the endless open spaces of Namibia when camping is de rigueur. The wildlife will have you entertained for hours, especially in Etosha National Park. Other countries that are simply amazing to drive around include Iceland, Ireland and Canada.
Of course, Australia can't be left off the list of must-drive countries. You can feast your eyes on vast open spaces where kangaroos jump through the bush scrub. Outback highways are littered with inevitable road-kill. However, it can be a testament to your driving skills as you attempt to dodge the splattered mass of an unfortunate creature being feasted upon by mammoth black crows. From beautiful coastal vistas along the Great Ocean Road in Victoria to the endless crossing of the arid Nullarbor Plains, Australia has many opportunities to experience the freedom of a driving tour.
One trip that's a must-do is to drive north from Cairns or the small town of Port Douglas to the historical village of Cooktown. Known as the site of the first 'white' settlement in Australia courtesy of Captain James Cook, who landed there on the shores of the Endeavour River. It's a quaint town of pubs, cafes, and fishing vessels, and the drive to get there will have you spellbound. You can chase the endless inland highway from Cairns or take the more adventurous route that will divert you along the coastal Bloomfield Track. Be aware that most car hire companies will not allow you to take a car on the Bloomfield Track as it's four-wheel-drive territory. In addition, it can only be traversed during the dry season (April to October).
The Bloomfield Track to Cooktown (approximately 7 hours)
You will need your own four-wheel drive and a tenacious driver. From Cairns, you will go past the turnoff to Port Douglas, through Mossman, and follow your nose. You will get to experience crossing the crock-infested Daintree River via a vehicular ferry as you head north to Cape Tribulation. The Bloomfield Track is unsealed for about 32 km. There are some incredible steep inclines and small river crossings to show off your driving expertise. Thick rainforest and fabulous coastal views will have you spell-bound. You can check out Bloomfield Falls after a bit of trekking and rock-hopping and take the time to linger over a meal at the historical Lion's Den. You will go through the aboriginal settlement of Wujal Wujal, a 'dry' area, so ensure that any alcohol in the car stays in the car, or you could be fined.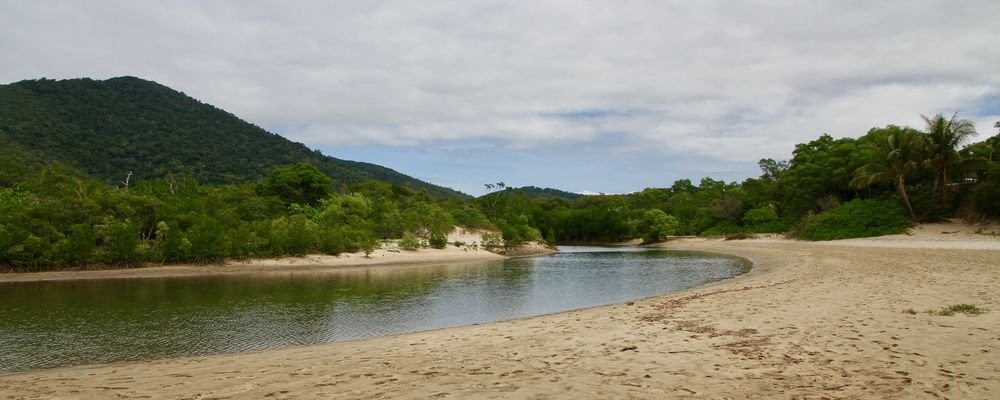 Cairns to Cooktown via the Inland Highway (about 4 hours)
Instead of heading to Port Douglas from Cairns, take the winding road up through the Kuranda Range into Mareeba and follow the highway to Cooktown. It's definitely not the same experience as doing the Bloomfield Track. However, it's still worthwhile traveling this route of dry savannah dotted with the mud-mounds of industrious ants, bobbing wallabies and squawking cockatoos. Numerous creeks and rivers have dubious names, such as Dead Dog Creek. The drive gives you a kaleidoscope of typical Aussie bush colors; rusty reds and sunburnt yellows. Swathes of lush greens flash by in canefields and banana farms decorated with signs saying 'do not take banana leaves from banana farms'! Truckstops with bush toilets provide adequate facilities if you are not into squatting to relieve yourself along the road. At the same time, minor dirt track detours give plenty of opportunities to find your own piece of privacy along the way.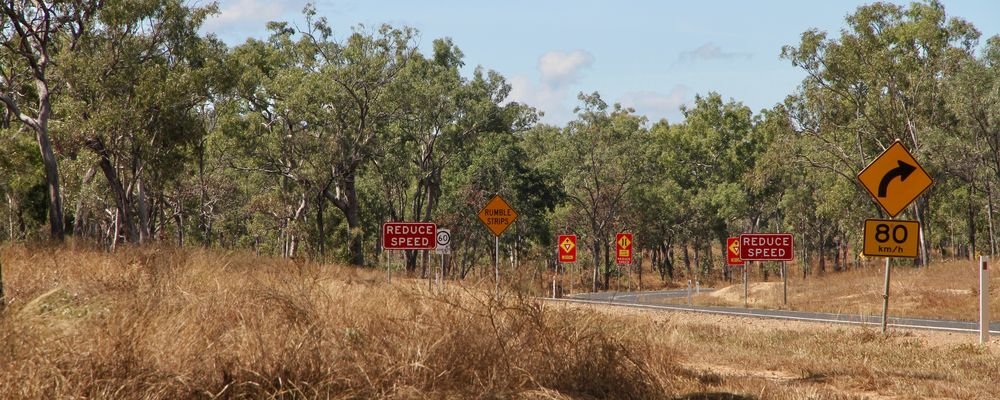 Every second car will be towing a caravan, with some even having a car and/or a boat hooked up like a crazy road train of civilized urban life that couldn't be left at home. Big buzzing motorbikes will whizz past you at break-neck speed, and single-lane bridges have to be watched out for. A plethora of road signs will tell you about the speed limit and which side of the road to drive on. More signage depicts the dangers you may encounter in a somewhat comical manner. There are cattle and kangaroos fighting cars and rocks falling on vehicles. Dedicated sections are signposted as 'animal crossings' compared to other signs that remind you to be aware of 'wandering animals'. This is obviously for the animals that can't read or find where they are meant to cross the road.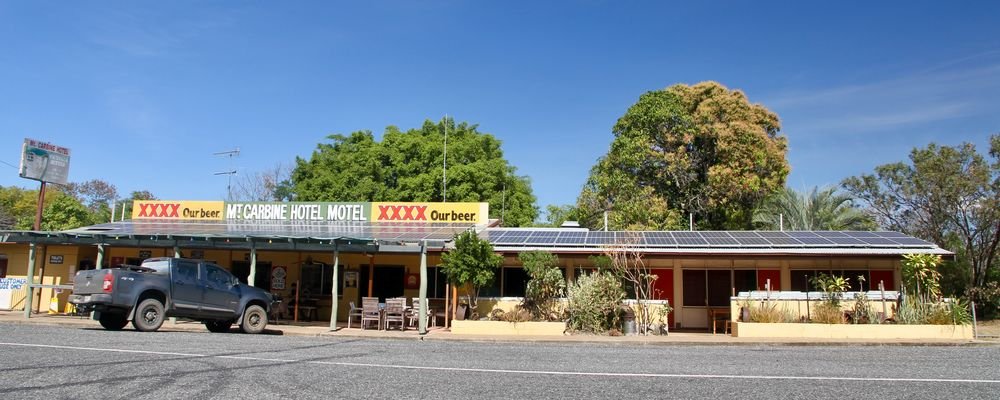 The highway is predominantly flat and easy to drive apart from a steep incline taking you up to Bob's Lookout. You will head past the quaint Mt Carbine hotel perched on the side of the road, over Bob's Lookout, past the Palmer River Roadhouse and the incredible view of Black Mountain where it's worth taking the time to stretch your legs.
Do The Loop
If you plan to travel during the dry season, take the Bloomfield Track up to Cooktown and return on the inland road to Cairns.
Take note that you will have to wash the red dust out of every nook and cranny in the car when you return to civilization.
---
Gail Palethorpe, a self proclaimed Australian gypsy, is a freelance writer, photographer and eternal traveller. Check out her website Gail Palethorpe Photography and her Shutterstock profile.
---