Flores Island has a long history of human occupation. It was in 2004 that researchers found fossils in a Flores limestone cave of miniature humans previously unknown to scientists. Believed to have lived about 18,000 years ago, they have been named 'hobbits' as they were only 3 feet tall. Before the first boats arrived, tribal villages were scattered throughout the jungle-clad land. In the 15th and 16th Centuries, Sumbawa and Sulawesi sultanates ruled the western part. At the same time, the emperors of Maluku reigned the east of Flores. The Portuguese came in 1570, chasing spices and bringing Catholicism to the island; they were later followed by the Dutch. From bloody tribal wars to being enslaved, the indigenous people of Flores may have lived in paradise; however, their world appears to have been anything but the slice of heaven we see today.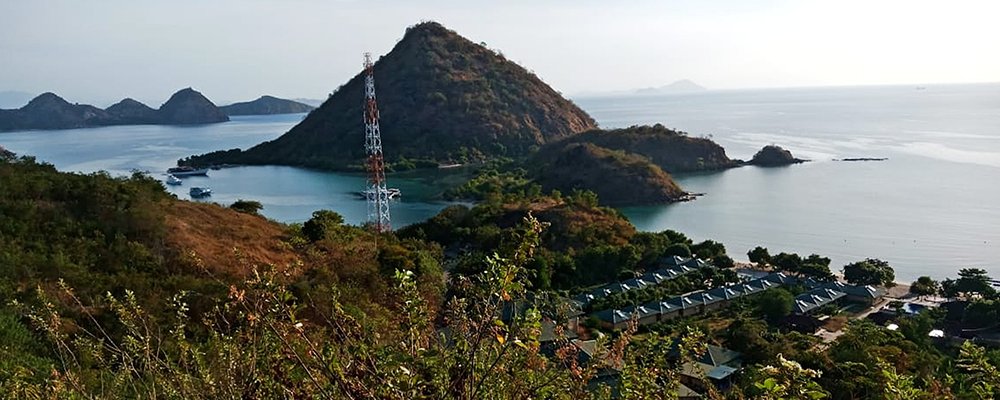 A short one hour and twenty minutes flight from the tourist-packed destination of Denpasar in Bali sits Labuan Bajo, the island's jumping-off point for Komodo National Park and its marine wonders. Translated, Labuan Bajo means 'place where the sea gypsies stop over'; today, it's adventurous international nomads. This once fishing village is at the feet of a hill overlooking volcanic islets and perfect sandy atolls. It's located on the western tip of Flores Island, Indonesia, about 300 miles west of Bali.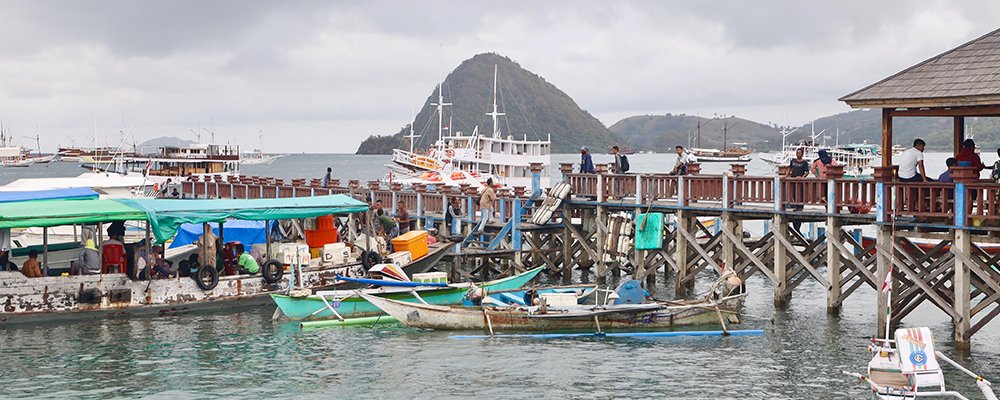 Labuan Bajo is gearing up to host the G20 of world leaders in 2022 and the ASEAN Summit in 2023—the town is no longer a backwater. In the main one-way street, Jl Soekarno Hatta, quaint wooden shop-houses painted in a rainbow of colors are squished between construction sites of contemporary buildings. The foreshore has been given a facelift, and in 2021 the lush AYANA Komodo Resort overlooking the new harbor joined the few other select upmarket retreats in this remote paradise. Boats of all shapes and sizes jostle around the bay—weird and wonderful liveaboard dive offerings, traditional phinisi sailing ships, simple wooden affairs packed with locals coming to town from outlying villages, and gleaming white boats exploring the East Nusa Tenggara region by water. The salt air's constant and subtle smell mingles with motorbike exhaust fumes and clove cigarettes.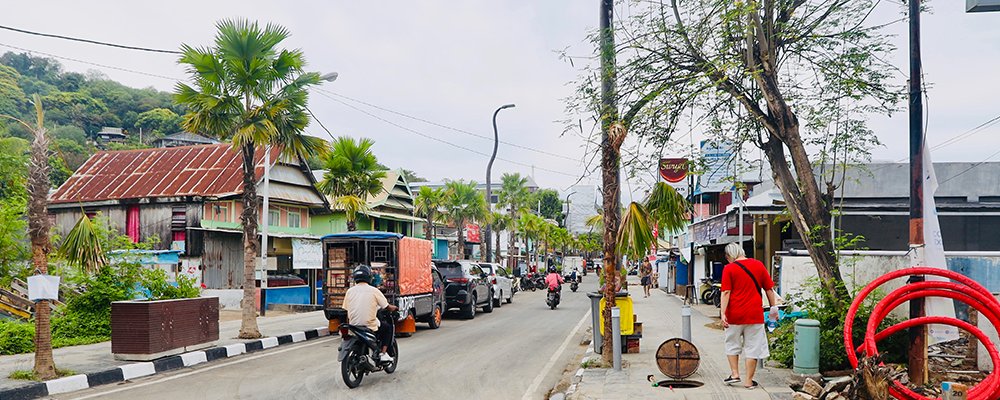 Locally referred to as 'Bajo,' the town is geared to accommodate tourists chasing komodo dragons and underwater fantasies. The streets are clean but chaotic at times. Workers stand in the back of large trucks wearing big grins, and armed forces jog the roadways en masse while chanting in the wee hours of the morning when the fish market comes alive. Ad hoc bamboo market stalls or spread-out rugs of vibrantly colored fruit line the harbor-side road swamped with motor scooters dodging cars. Stallholders haggle with customers and chat in a cacophony of happy sounds. Every second shop is a dive/tour company. Cafes are hidden up wooden stairs serving brilliant coffee, and musty old shops of daily staples compete with new 7-Elevens. Street food is plentiful, and the night market is a bustling hive of activity. Warungs selling traditional dishes now compete with international restaurants, and an array of bars and nightclubs fill up at night with happy sunburnt bodies.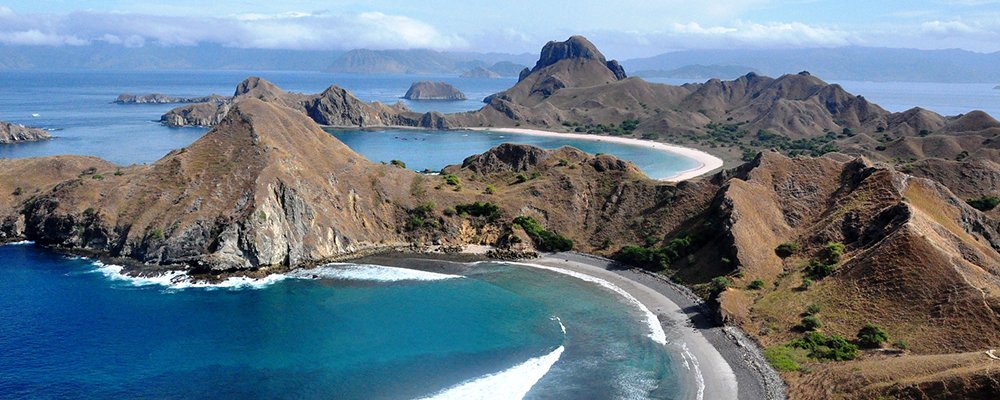 You don't have to take a deep breath and dive into the water to see the wonders of this magical island. First, you can swim in a natural cave pool of sparkling blue water at Goa Rangko Cave. Then, gawk in awe at the Batu Cermin Cave, known as the 'Mirror Cave,' where light filters through the cave roof and reflects off the rocks in a brilliant light show of illuminated crystals. Further afield, hike to the remote canyon waterfalls of Cunca Rami and Cunca Wulang. You will tread through isolated settlements where small wooden churches proudly stand amidst thatched huts. For a spectacular blazing red sunset at the end of the day, head to one of the high points such as Puncak Silvia or Bukit Cinta, nicknamed the Staircase to Heaven. Or, make sure you are on a boat near Kalong Island for a bat exodus! Literally, thousands of flying foxes take off in formation at dusk from this mangrove-smothered island. The sight is simply mindboggling as the flying foxes have a wing span of up to 1.5 meters.
Being touted as Indonesia's 'next big thing,' the island of Flores is an escape from beautiful Bali's madness.
---
Gail Palethorpe, a self proclaimed Australian gypsy, is a freelance writer, photographer and eternal traveller. Check out her website Gail Palethorpe Photography and her Shutterstock profile.
---