Hotel restaurants are on the upswing, with multi-starred chefs at the helm and refreshed dining rooms. They've been quick to adapt to new dining trends,including diversifying menus to meet dietary requirements and using locally sourced and sustainable ingredients. We've selected a handful of hotel restaurants renowned for their cuisine, décor, views and overall experiences to give you options the next time you're looking for a place to eat that might just be steps from your hotel room.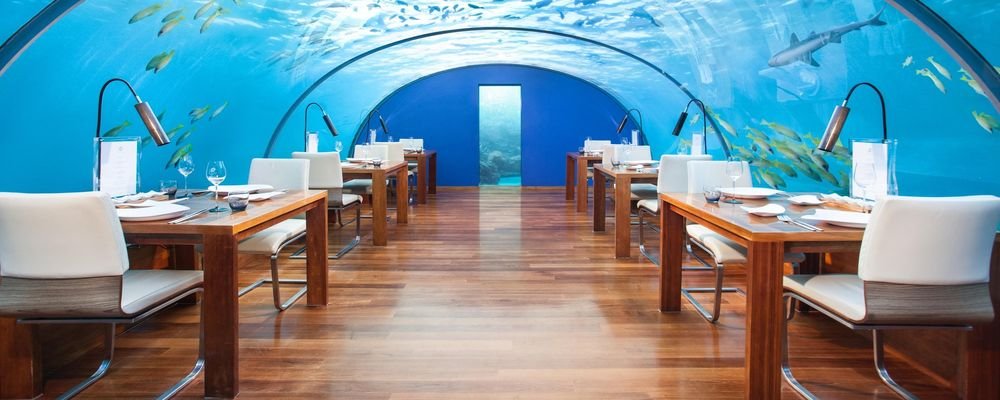 The Ithaa Undersea Restaurant, Conrad Hotel, Maldives
The Maldives islands have stunning atolls, five-star beach resorts, and restaurants like The Ithaa Undersea Restaurant at the Conrad Hotel. This one-of-a-kind underwater restaurant serves local, spicy dishes, with unforgettable views of aquatic life from the dining room. Ithaa Undersea Restaurant website
Sea Grill, Radisson Hotel, Brussels
Europe's de facto capitol, Brussels, is home to both the EU and NATO, and in spite of its magnificent Grand Place, great Gothic town hall and more than 80 museums, visitors might not equate the city with outstanding gastronomy. Surprise! Brussels has some serious bragging rights. From his intimate and recently refurbished restaurant in the Radisson Hotel, Sea Grill, Yves Mattagne offers a seafood menu featuring an outstanding dish extraordinaire, Homard à la Presse ("lobster press"), which requires a contraption used in only four other restaurants in the world. Sea Grill website
NoMad Hotel, New York City
In the NoMad district of Manhattan, home to a cluster of leading-edge hotels and restaurants, the NoMad Hotel is the first US project from designer Jacques Garcia of Paris's famous Hotel Costes. A Food & Wine magazine best chef, Daniel Humm leads the restaurant, with a menu that reflects new classics and favorites from his renowned Eleven Madison Park, one of the world's top restaurants. NoMad website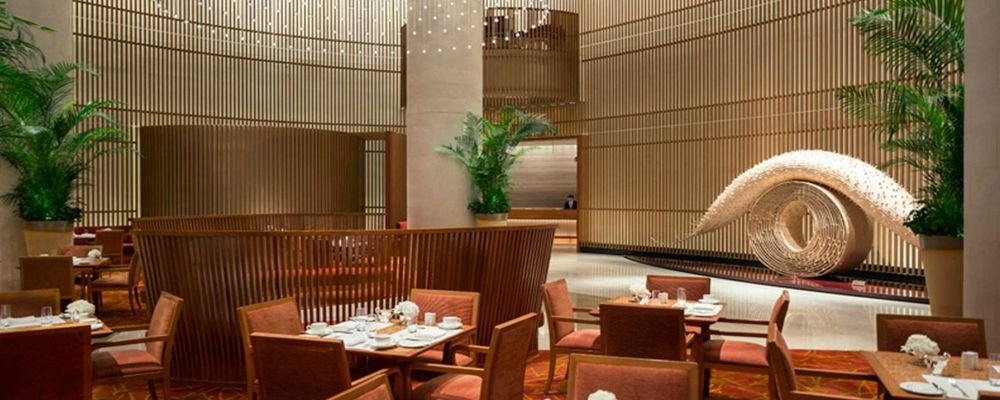 Kyoto Tsuruya, The Peninsula Tokyo
At the Peninsula hotel in Tokyo, an offshoot of the original Tsuruya in Kyoto serves kaiseki-style cuisine, giving guests a truly authentic Japanese fine-dining experience. Each delicate dish within this cuisine pays homage to the season and showcases the finest ingredients of Japan's master producers. The Japanese style dining room is ultra-luxe and modern. Kyoto Tsuruya website
Hawksworth Restaurant, Rosewood Hotel Georgia, Vancouver
Vancouver's Hawksworth Restaurant in Rosewood's Hotel Georgia focuses on contemporary Canadian cuisine that reflects the cultural diversity of Vancouver and the seasonality of ingredients. The ambiance is relaxed and welcoming, while a highly skilled chef and team work to make Hawksworth Restaurant an annual winner in the city's restaurant awards. Hawksworth website
Yan Toh Heen, InterContinental Hotel, Hong Kong
Navigating the restaurant scene in Hong Kong can be dizzying, and the InterContinental Hotel Hong Kong has Yan Toh Heen (plus a restaurant by Alain Ducasse), which offers jaw-dropping views, a new location (check out the jade corridor) and treasured Cantonese specialties exquisitely served. Yan Toh Heen website

Uco, Fierro Hotel, Buenos Aires
In Buenos Aires, the cuisine isn't always about the beef. At the Fierro Hotel's restaurant Uco, the hype lives up to the food and service. Pair a local Argentinean wine with the in-house cured bacon or smoked Patagonian trout before moving on to their other seasonal specialties. It's all served in a relaxed space paneled with Guayubira wood from northern Argentina. Uco @ Fierro Website
Mathias Dahlgren, Grand Hotel Stockholm
It's not only Swedes that get excited about celebrity chef Mathias Dahlgren, whose eponymous restaurant is located inside the Grand Hotel Stockholm. Michelin-star anointed Dahlgren coaxes the fullest flavors out of ingredients, delighting locals and visitors from all over the globe. Just because it's called a "grand hotel" doesn't mean that the ambiance is over-the-top; the restaurant's clean, spare environment allows you to focus on the flavors. Mathias Dahlgren website
---
Isabelle Kellogg's press relations career, with a speciality in travel and hospitality, enabled her to make an easy transition to journalism and write about the topics she loves.
---