Chronic kidney disease affects about 10 percent of the world's population. When kidney disease progresses to its last stage (known as end-stage renal disease, or ESRD), the kidney stops functioning. You need either a kidney transplant or dialysis to replace the kidney's function.
Dialysis treatments typically happen three times a week. It can be a large time commitment. But crucially, it doesn't mean you have to stop travelling the world. You have plenty of options, as long as you know how to take advantage of them. If you're with a global dialysis provider, you can always contact your company's travel office to arrange appointments. Otherwise, it may be helpful to join an organization like Global Dialysis.
Depending on where you go, you may want to make sure you have insurance that covers you for international travel. Here are some of the best travel destinations where dialysis is plentiful, affordable, or both.
Cruise Ships
Cruise ships are a good place to go for adventure and security rolled up in one. On top of the destinations, entertainment, and food, access to medical care is available. Independent companies like Dialysis at Sea partner directly with cruise lines to offer dialysis on board.
Paris, France
From the starry skies over the Eiffel Tower to the historic catacombs below the city, Paris is full of enchantments and delight. It's also full of dialysis centers. And no matter which arrondissement or suburb you're in, you're never too far from the treatment you need.
Rio de Janeiro, Brazil
Brazil has given the world everything from the quiet, contemplative music of bossa nova to the raucous partying of Carnivale. It also has public hospitals that are free to anyone, including foreign travelers, and a private health care system that includes local dialysis providers.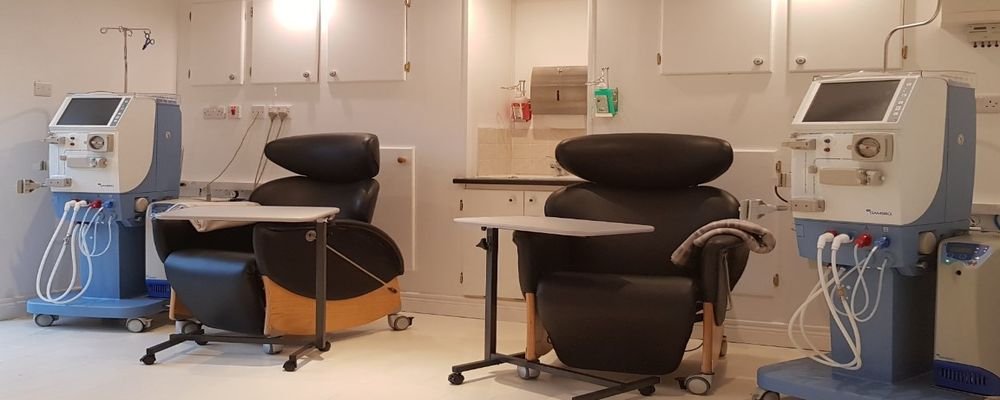 Dublin, Ireland
Whether you're taking in the countryside, wandering in Joyce's footsteps, or visiting one of the historic castles in or near the city, Dublin has everything that a traveler could want. That includes plenty of access to clinics. There are rural options, as well. If you're willing to drive a few hours, Ireland actually has a destination dialysis clinic. Irish Holiday Dialysis in North County Cork—an idyllic dialysis center in a 200-year-old traditional Irish cottage.
Mexico City, Mexico
Mexico's beaches get all the attention, but Mexico City is a fascinating capital, where dozens of artistic, cultural, and culinary movements from across the country converge. While dialysis can be pricey in some tourist hotspots, generally treatment in Mexico is on the affordable side.
Limpopo, South Africa
Dialysis doesn't mean you're confined to city life. Most people only dialyze in-center three or four times a week. That means you can hit up one of Limpopo's dialysis clinics and still have plenty of time to travel the bushvelds and wildlife reserves of Limpopo, and neighbouring countries like Botswana and Zimbabwe.
Sydney, Australia
Home to gorgeous beaches, iconic architecture, and fascinating museums, Sydney is a popular destination for Australian travel and, like most major cities, you're well covered for dialysis. You may want to consider some kind of travel insurance here. Sydney's free health care is only available to citizens and permanent residents.
Prague, Czech Republic
Prague is a hot destination for medical tourism because of the quality of care, combined with the affordability. But it's also a place to listen to jazz combos on the historic Charles Bridge, or take in colorful, ornate architecture downtown.
Kuala Lumpur, Malaysia
Kuala Lumpur is a vibrant city where many cultures in the area meet. Some of the most beautiful Hindu places of worship, including Batu Caves, are here, as well as a burgeoning art and music scene. Much health care is inexpensive or free, and Malaysia is focusing on expanding health tourism. Just know that you may have to wait to see a specialist.
U.S. Virgin Islands
The U.S. Virgin Islands have a lot to offer on their own, from gorgeous beaches, to luxurious, all-inclusive resorts. And since the USVI is a U.S. Territory, Medicare covers U.S. citizens while they're there. That's a big deal for people with ESRD, since U.S. citizens become eligible for Medicare as soon as they begin treatment for kidney failure.
---
Jenny Hart is a health and wellness writer with a passion for travel, cycling and books. So far, she's traveled to Ecuador, Costa Rica, Mexico, Germany, Iceland, Ireland, Austria and Japan. When she isn't writing or travelling, she's traversing NYC with her two dogs Poochie and Ramone.
---