The world's best tiny beach towns offer more than just sand and surf. They have a certain charm, historical appeal, or unique sense of character that bigger tourist destinations just can't seem to maintain. Here are 7 idyllic destinations for beach lovers who want a little culture to top off those delectable ocean views.
1. Hoi An, Vietnam
Hoi An is famous for its Vietnamese cooking classes and tailor shops. But did you know it's also one of the most beautiful beach towns on earth? There are two gorgeous beaches in this tiny tourist town – Cua Dai beach and Ang Bang beach. Cua Dai is a resort-type beach just a few kilometers south of Ang Bang beach, which is more popular with locals. Both destinations have white sand beaches, plentiful palm trees, authentic Vietnamese food for sale, and stunning views of Monkey Mountain to the north.
2. Manarola, Italy
Is your idea of an idyllic beach town incomplete without Italian architecture, cliffside homes and crystal blue waters? Then hightail it to Manarola, where beach views are plentiful from practically every vantage point. Manarola is part of Cinque Terre, five tiny towns in northern Italy that are insanely popular with tourists – probably because they look like most people's idea of heaven on earth!
3. Morro de São Paulo, Brazil
This tiny beach town is located on Tinharé Island on Brazil's Atlantic coast. With multiple beaches for surfing and dining, abundant palm trees and a car-free policy, Morro de São Paulo just might be the definition of peaceful paradise.
4. Ilulissat, Greenland
Whoever said beautiful beach towns had to be warm? Ilulissat is a tiny fishing village on the western coast of Greenland that's only recently begun welcoming tourists to its craggy shores. Brightly painted buildings stand out against the deep blue of the ocean, while stark mountains glisten pink in the cold sunshine. Icebergs abound, making this destination an exciting wintertime alternative to the traditional beach getaway.
5. Pučišća, Croatia
Located on the island of Brač in southern Croatia, Pučišća is a town of less than 2300 people. The town hugs a v-shaped inlet of sparkling turquoise water, which beautifully offsets the orange-red rooftops of the surrounding buildings. Rent a boat to explore the bay, or dive in for a swim off one of the many white-stone piers.
6. Sidi Bou Said, Tunisia
Known for its jaw-dropping blue and white architecture that highlights the blue of the ocean, Sidi Bou Said is a tiny beach town in northern Tunisia. Brightly painted blue doors pop against the white stucco of the buildings, which crowd on the hillside above the Gulf of Tunis below.
7. Byron Bay, New South Wales, Australia
Hiking, scuba diving, whale watching, swimming – Byron Bay truly has it all. This beautiful beach town in southeastern Australia features a prominent lighthouse set atop a massive headland – the perfect lookout for whale watching during Australia's winter months. White sand beaches and teal-blue waters offer swimmers and sunbathers a positively heavenly destination for fun in the sun.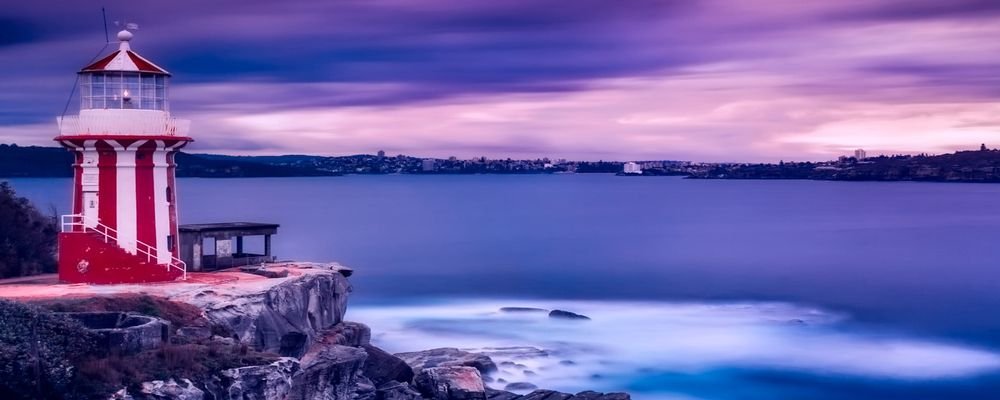 What's the most beautiful tiny beach town you've ever visited?
---
Rebecca Anne Nguyen is a freelance writer and the Founder of TheHappyPassport.com, an inspiration site for solo female travellers.
---