Asia has plenty of those places to make a photographer nearly wet their pants in excitement and the old town of Hoi An on Vietnam's central coast is up there with the best. It's soft golden glow bouncing off French colonial buildings in the early morning and late afternoon, shimmering colourful boat reflections on the canals of somewhat murky water and the assortment of bobbing straw coolie hats as the locals go about their daily business will have you spellbound and not knowing where to point your camera first.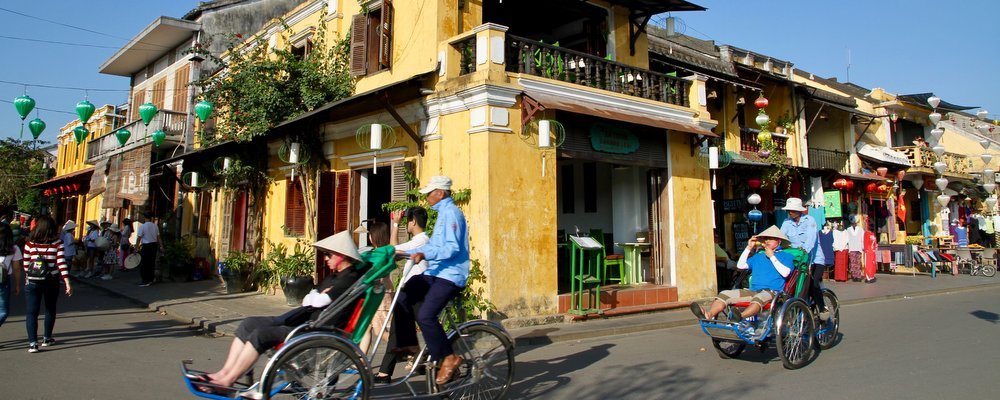 This World Heritage ancient town is draped with whimsical and colourful Chinese lanterns. It is a maze of alleys awash in funky cafes dishing up traditional cuisine, boutique hotels, travel agents, tailor shops, massage parlours and trashy tourist shops that somehow defy the tacky bit. Hoi An becomes an Asian Disneyland for hordes of international tourists that arrive by the busload from Da Nang, the haven of casinos, which lies an hour north. There is a steady parade of cyclos, coolie hatted vendors pushing carts of aromatic freshly baked French baguettes, vivid bougainvillea climbing terraces outside ancient wooden Chinese tea houses or swirling along verandahs of Japanese merchant houses, all jam packed together in rows like tottering craggy old men.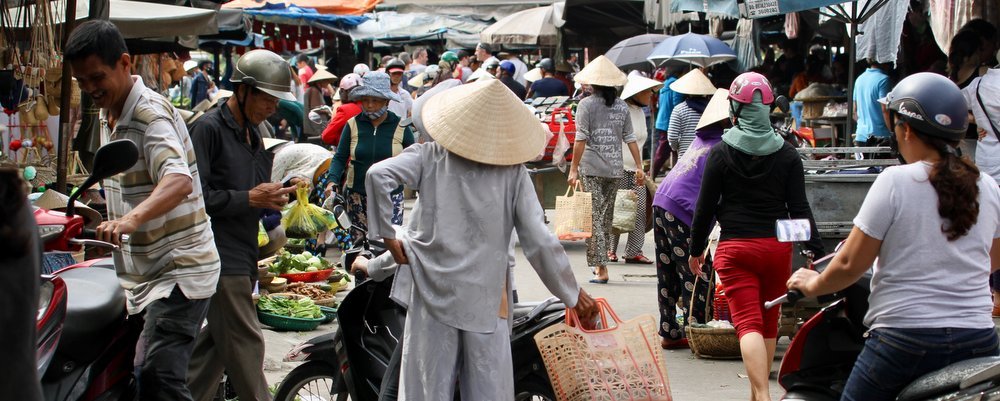 It's like stepping into that perfect postcard picture with sublime visions everywhere you gaze, from ornate temples to Vietnamese tube houses. The iconic Japanese Covered Bridge becomes the most congested area, as every tourist attempts to capture the moment on a camera for posterity. The stunning character portraits that capture elusive souls taken by internationally renowned French photographer, Réhahn, gaze at you from the sidewalk outside his gallery in Nguyen Hue, as you meander the narrow streets and alleys that are pedestrian only.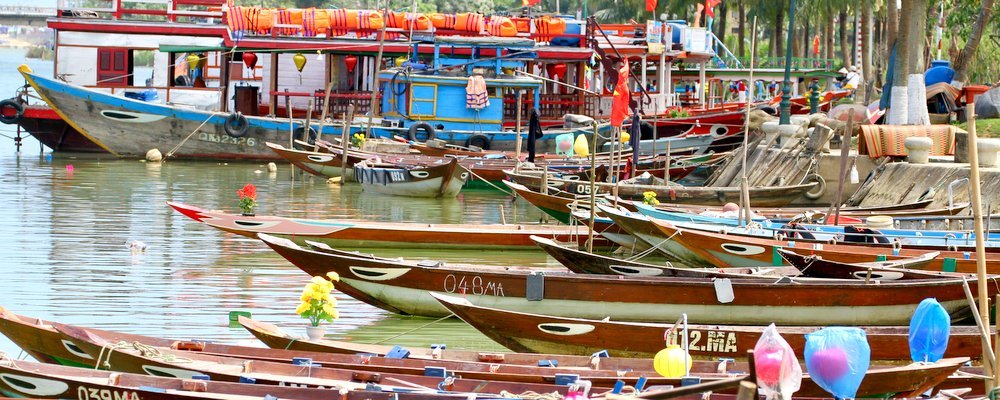 Sitting on the outskirts interwoven with the alleys is the produce market where in the mornings the locals come to buy their fresh goods from live chickens in bamboo cages to freshly made rice noodles drying in the sun on the bewitching river front of the Hoai River. From fiery chillies to psychedelic displays of plump fruit and vegetables plus the hustle of bicycles and motorbikes laden with produce, the Central Market allows you a glimpse into the real lives of the locals as you sit at one of the cafes waiting for your traditional Vietnamese coffee to slowly drip into your cup. You should take a stroll along the riverfront that was once a bustling port and is now lined with upmarket hotels plus the quirky sight of a whole pig being barbecued on the riverside walkway.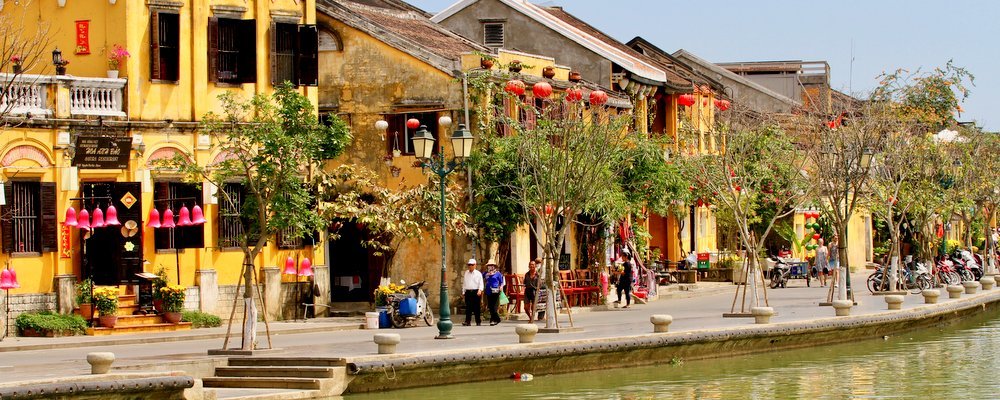 If you head toward the coast from the old town you will cross a colourful flag and lantern festooned bridge to come across a fishing village before hitting Cua Dai Beach that is smothered in gigantic sand bags to keep the East Vietnam Sea from robbing its shores. As far as the eye can see eclectic beachfront restaurants with a spread of tables and chairs dominate the shoreline, which gives you views over the choppy seas to Cham Island that is in fact a group of 8 islands accessible by a harrowing speed boat ride.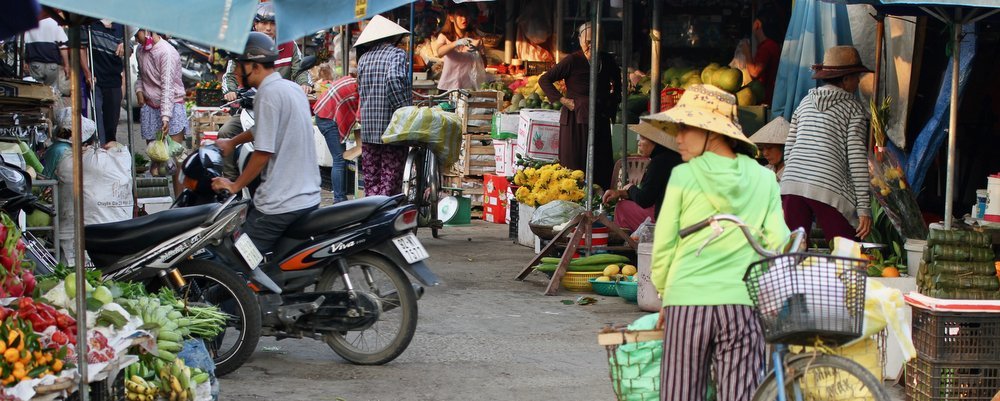 Walking back towards the old town it is a game of Russian roulette as rickshaws, cyclos, bicycles, huge trucks and many other indescribable contraptions on wheels honk incessantly as they pass by you within inches. If you meander around the waterway you catch glimpses of fishermen sorting nets, ducks waddling on the riverbanks beside what can only be described as makeshift humpies, fish nets strung between sticks in the river and dozens of vibrant fishing boats decorated with the bright colours of the Vietnamese flag gently wafting in the breeze.
If you manage to walk far enough you will stumble across the Tra Que Village Vegetable Garden, the magical space of different hues of green splashed with vivid colours where no chemical or toxic chemical is used. This is where you can see how the farmers grow their vegetables and take a deep breath of natural fragrant aromas from the scattered seaweed manure from the De Vong Lake. Established 300 years ago, over 41 kinds of vegetable, herbs and fruit are grown. Think Vietnamese coriander, Thai basil, betel leaf, spearmint, dill, watercress and lemon grass to name a few. It is 40 hectares of deliciousness that will have any budding chef drooling or fledgling gardener turning green with envy.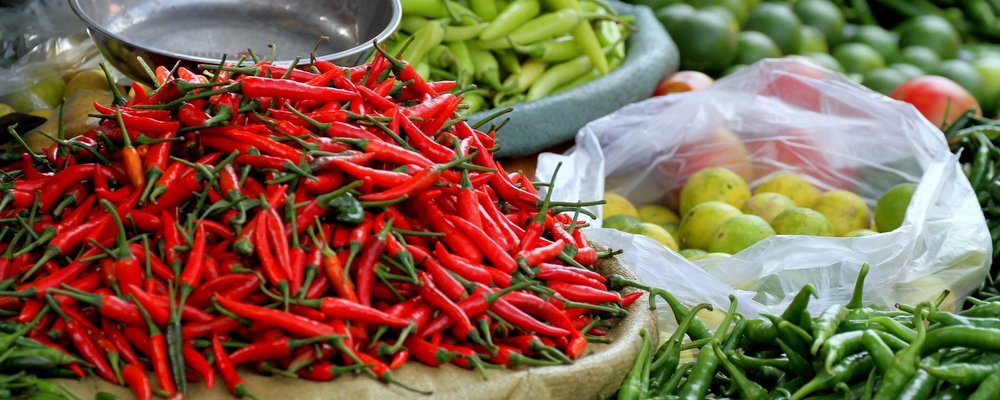 To escape the madness of the hordes it is easy to hire a motorbike or even a motorbike with a driver, giving you pillion status. Sweeping rice paddies and bustling dusty local village street markets wait to be explored on the outskirts of town. The Thanh Ha Terracotta Park will give you an overview of the history of terracotta with its somewhat grotesque statues worthy of scary movies or playful terracotta interpretations of fishing boats that will make you smile. Just behind the stunning gardens of the park you will find the pottery village of Thanh Ha where you can actually see a local artisan at work, of course in exchange for the purchase of a terracotta item, but this cost definitely is in the pittance bracket.
The writer stayed at Ven Ho Homestay (Lakeside Homestay) run by a super accommodating husband and wife team who genuinely care about their guests. Despite a few pantomime moments, the breakfast was to die for and the rooms the cleanest I have ever experienced (for a budget accommodation house). The location was just perfect looking out over the water from a hammock on the deck at coolie-hatted locals fishing in their canoes or trudging around the water trying to find shellfish with their feet. Sitting on the outskirts about 1km from Cua Dai Beach in one direction and 4kms from the old town in the other direction, with rice paddies hidden in back streets, it was easy to grab a complimentary bicycle to explore.
You may also be interested in A Different Look at Nha Trang, Ho Chi Minh the food bowl of the Mekong Delta or 5 Iconic Asian Dishes worth travelling for.
---
Gail Palethorpe, a self proclaimed Australian gypsy, is a freelance writer, photographer and eternal traveller. Check out her website Gail Palethorpe Photography and her Shutterstock profile.
---