Over 1,000 coral islands create the Maldives sitting like a smattering of glittering jewels in the Indian Ocean. Approximately 300 islands are uninhabited, with the remainder home to local villages and decadent resorts.
Club Med Kani is perched on the island of Kanifinholu, located north of the capital, Male. It's a one-stop holiday destination that gives you a definite bang for your buck, as do all Club Med destinations. You don't have to keep pulling out cash or a credit card to indulge your whims throughout your stay that's loaded with gorging on sumptuous food, knocking back a few drinks, or getting physical in the stunning aqua water or playing on the land. Suppose you want more privacy on particular activities—these will cost extra, but there's enough on the inclusive list to keep most holiday seekers wearing big grins.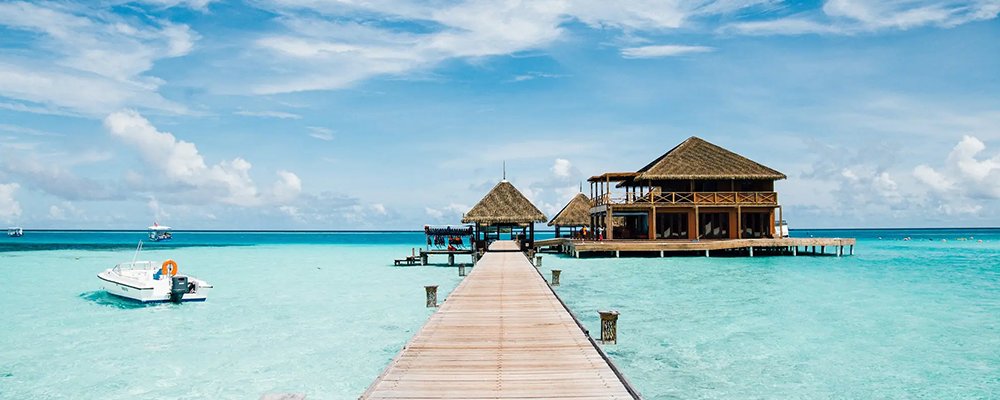 Branded as a seductive honeymoon spot or romantic jaunt, Club Med Kani is also a playground for the kids if you feel guilty leaving them at home or if it's a long-awaited family holiday. You will be able to have 'alone' time if you want, as there's a fantastic kid's club that will have them sleeping like angels at night after being worn out during the day getting up to antics—paddling in the lagoon equipped with goggles and flippers, flying through the air like Tarzan on a trapeze, cooking, sailing—the list goes on in a wonderland of white sand and coconut fronds. For the bigger kids and adults who like to rekindle their childish wonder of the world, passing the time is a no-brainer—jet-skiing, sailing, snorkeling, surfing, dolphin spotting, turtle safari, diving—the list is endless when you include land-based capers like table tennis and beach volleyball. For the fitness fanatic, there's a gym on the beach or yoga on the warm sand. On each Sunday, local Maldivian hawkers arrive to sell their art and trinkets in pop-up market stalls. Even the party souls are catered for, with night-time extravaganzas happening around bonfires on the beach or mingling in the bar while sipping a cocktail.
For those seeking a low-key and luxury holiday, there are options. Choose the Exclusive Collection Space of the resort that will give you accommodation away from the hoi-polloi, customized services, and your own dedicated person to book any a la carte options, such as sublime treatments at the Club Med Spa or to arrange a romantic private dinner or sunset cruise.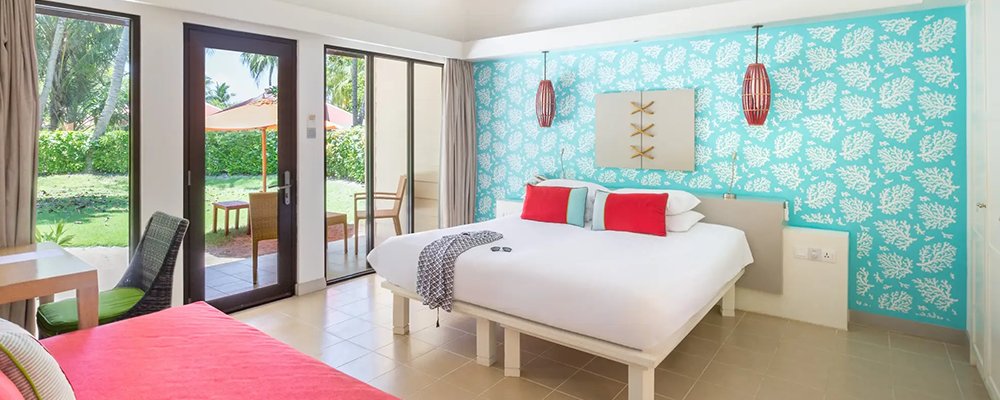 Guest accommodation ranges from having views over the beach to the ocean or peering out at a lush tropical garden. The décor reflects the colors of the Maldives; the white sand, the deep orange of the sky at dusk, and the blue of the water. Each villa is complete with a veranda to laze away afternoons of doing nothing but immersing yourself in your surroundings. And, has all the amenities you could wish for—bathrobes, slippers, a safe, coffee and tea, and a bathroom you can dance in. If you want to indulge yourself, book an overwater villa with your own beach and a bar lounge area serving late breakfasts and champers with canapes each evening. There's enough distance from the rest of the resort to make it exclusive. The wooden villas sit on stilts with stairs down to the clear blue water for when you want a quick dip in the ocean. Deck chairs on the balcony are for sun-worshipping times, and a mammoth bathtub gives you the excuse to wallow for hours staring at the endless expanse of ocean.
Foodaholics can do a little jump for joy as there are plenty of possibilities to tickle your tastebuds and those of your kids. The buffet-style restaurant, 'The Vehli,' has an array of delightful and international cuisine options for breakfast, lunch, and dinner. A dedicated kids' corner will have them stuffing their faces. At the same time, you can invade the Italian, Asian, Indian, or seafood dishes. Bookings are essential if you wish to dine under the stars at 'The Kandu' restaurant offering a more refined experience.
The Club Med concept was founded by Gérard Blitz in 1950 and today operates in over 30 countries worldwide in 70 dreamy holiday locations. With an ethos embracing its pioneering vision and dedication to protecting our planet, the Club Med Foundation supports the local communities in their surrounding environment. All the resorts are built to blend in with their natural space—Club Med Kani is no exception to this rule of sustainability and responsibility to the planet.
---
Gail Palethorpe, a self proclaimed Australian gypsy, is a freelance writer, photographer and eternal traveller. Check out her website Gail Palethorpe Photography and her Shutterstock profile.
---