It's the question on every traveller's lips: how can we continue to travel the world while reducing our carbon footprint? According to a recent sustainability travel report by Booking.com, 55 percent of global travellers are more determined to make sustainable travel choices than just one year ago – but there is a distinct lack of knowledge about alternative options when it comes to putting this into practice.
Here are seven ways that you can start to make your travels more sustainable in 2020.
Travel by train instead of plane
If possible, shun flying in favour of travelling by train. You could make a carbon saving of up to 90 percent by opting to take the train, and depending on your journey, it doesn't actually take that much longer when you factor in all the time you spend at airports. You'll also be treated to breath-taking views from the window during your journey, will enjoy more comfortable seats and can disembark in the centre of town, rather than having to organise a transfer from the airport.
Walk or cycle to get around
Once you reach your destination, it's all too tempting to hop in a taxi or take public transport to get around. To lower your carbon footprint and to see more of the sights, explore your destination by foot or hire a bike for the duration of your trip. If you have to use public transport, research into the most environmentally friendly option available, such as electric trams or trains. If you're planning a road trip, consider hiring a hybrid or electric vehicle.
Carry reusable bottles
A simple way to lower your carbon footprint when travelling is to always carry a reusable water bottle, keep-cup and bamboo cutlery. Bottled water is a huge environmental problem both with the enormous number of plastic bottles wasted and the carbon footprint of shipping bottled water around the world. If you're visiting a country where you're worried about the quality of the water supply, there are plenty of reusable water bottles with inbuilt water filters. Likewise, carry your own coffee cup and refuse disposable options in coffee shops.
Travel light
If you have to reach your destination by plane, resist the temptation to over-pack and travel with a simple carry-on case. Extra weight on planes burns fuel more quickly so reducing your luggage can save on your carbon footprint.
Travel in economy
Economy class has the least environmental cost on a plane as it carries more people for the same amount of fuel. Resist the temptation to upgrade and travel with a cleaner conscience.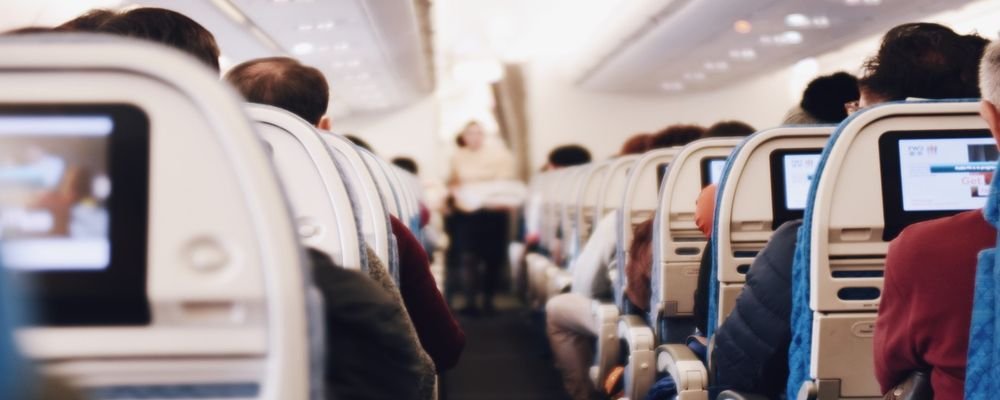 Stay longer
If you are flying around the world to visit a destination you've always dreamed of, stay longer and make sure you see everything you want to see. It's better to travel once and extend your trip than to continue making repeat flights. When you reach your destination, avoid taking internal flights and get around by rail or electric car.
Choose a more environmentally friendly plane
Sadly carbon-neutral planes do not yet exist, but did you know that opting for a newer model of plane could slightly lower your carbon footprint? Skyscanner shows which flights have lower emissions, taking into account considerations such as fuel efficiency and the need for stopovers.
---
Emma Lavelle is a UK based writer and photographer and has her own blog Field and Nest.
---